Young Tyler Baze Seeks Breeders' Cup Glory
by Margaret Ransom
Date Posted: 10/16/2003 12:45:59 AM
Last Updated: 10/16/2003 7:42:50 PM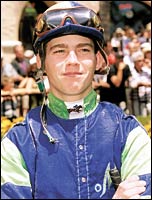 Eclipse Award-winning rider Tyler Baze.
Photo: File

The only thing about Eclipse Award-winning jockey Tyler Baze that even remotely hints at the fact that he'll just be turning 21 on Oct. 19 is his appearance. Blonde and blue-eyed, with braces on his teeth and a naturally small build, the young journeyman looks like he'd fit in better at a college fraternity party or attending a Psychology 101 class instead of spending his days from dawn to dusk at the racetrack, carving out his niche as one of Thoroughbred racing's brightest stars.Without a doubt, Baze has had a big year. Though he won the Eclipse as top apprentice of 2000, this year the Washington native has been reaching career highs few jockeys ever achieve. And all before most kids his age even graduate from college. His current success has included more than just top-10 finishes at every major Southern California meet so far this year and a top-20 national ranking. He works hard, is well-known for never giving up and has earned the respect of his fellow riders, as well as the trainers who leg him up on their horses every day.At this year's Breeders' Cup World Thoroughbred Championships, Baze will also be looking to become the youngest winning jockey in Breeders' Cup history, eclipsing jockey Walter Guerra, who rode Outstandingly to victory in the inaugural Breeders' Cup Juvenile Fillies in 1984 at age 22."That would be great," Baze said with a grin.Baze was born into one of racing's most notable families and always knew he wanted to be a jockey. Thanks to his background -- both parents, Carrie and Earl, were jockeys as is his uncle, Gary Baze, and second cousin, the Hall of Famer Russell Baze -- he knew the sacrifices he'd have to make."I missed out on my childhood, but I don't have many regrets," Baze said. "I wouldn't trade my life and what I've done for a second. I know other people my age get to go have fun, while my life is pretty much all business. But this is what I want to do. And look what's happening for me now. I rode my first Derby, went to Dubai for the first time, won my first grade I and now I'm riding in the Breeders' Cup. What could be more exciting than that?"Despite his personal and financial success, nothing motivates Baze more than competition."I like to win," Baze said. "I like everything about what I do, but I like the competition. The money is second to the actual winning and making the owners and trainers happy."Baze's monumental 2003 has included a first trip to Dubai to ride in the World Cup and then back in time to accept his first mount in the Kentucky Derby (gr. I). Despite being sidelined briefly by a broken foot suffered in a spill at Del Mar this summer, Baze was back in the saddle in time to guide Lee and Ty Leatherman's Fleetstreet Dancer to a third-place finish in the Pacific Classic (gr. I) for trainer Doug O'Neill. Horse and rider followed that impressive performance with a runner-up finish in the Goodwood Breeders Cup Handicap (gr. II).Baze earned his first-ever grade I score aboard Cee's Stable's top sprinter Avanzado in the Ancient Title Breeders' Cup Handicap (gr. I) on Oct. 5. But with Avanzado and Fleetstreet Dancer sitting out Racing's Championship Day, Baze's Breeders' Cup victory hopes lie squarely on the back of Silverton Hill Farm's grade I-placed Great Notion. The 3-year-old colt, trained by Darrin Miller, will be a longshot in the Sprint, but not to his young pilot."It's exciting, that's for sure," Baze said of his Breeders' Cup date with Great Notion. "I'm honored that they've asked me to ride him. I've seen him run and looked over his record and he's a very good horse. He's got a lot of speed and strength which will be perfect for the track (at Santa Anita)."



Copyright © 2015 The Blood-Horse, Inc. All Rights Reserved.