Van Clief: Despite Defections, Breeders' Cup Attracts Equine Stars
by Ron Mitchell
Date Posted: 10/15/2003 1:13:12 AM
Last Updated: 10/16/2003 7:35:14 PM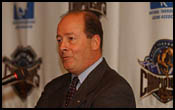 Breeders' Cup president D. G. Van Clief Jr.
Photo: file

Despite the defections of some major contenders in recent weeks, the Breeders' Cup World Thoroughbred Championships will have competitive races and "plenty of stars," according to Breeders' Cup president D. G. Van Clief Jr.Tuesday was the pre-entry deadline for the Breeders' Cup races that will be hosted by the Oak Tree Racing Association at Santa Anita on Oct. 26. Since the pre-entries will not be announced until Thursday afternoon, Van Clief discussed the pre-entries in a general sense during an interview Thursday afternoon at the Breeders' Cup's temporary offices at Santa Anita."In general, overall we're very pleased," Van Clief said. "We have got full fields and they are as we expected them to be. We have a quality raiding party from Europe and we have some real star power. This is going to be very entertaining and I think it's going to be a great betting event. At this stage of the game, we have got the stars that were available at this time of the year."Concerning comments from some owners and trainers that they would sit out this year's Breeders' Cup races because the West Coast location may not be conducive to success by East Coast or European horses, Van Clief said any trepidation was not reflected in the pre-entries."We probably shared some concerns (about a possible lack of East Coast or European horses) a week or two ago with the number of defections we were having," Van Clief said. "We don't see a pronounced reflection (of an anti-West Coast bias). Those defections have occurred by virtue of decisions which really have nothing to do with an aversion to ship to California. Van Clief also said he did not believe the first increase in Breeders' Cup entry fees in 20 years had an effect on pre-entries either."When we made the decision to raise those fees, we did it on the basis of a fair amount of survey work of owners and trainers who are some of the regulars we expect to see entering horses in the event," Van Clief said. "And there was very little, if any, resistance through the opinion gathering that we did. Had there been significant resistance, I doubt very much if we would have made the decision. I also think we would be naïve to expect somebody would not take issue with the fact that there had been a fee increase."Van Clief said the increase in entry fees was directly related to the decision to increase purses by $1-million so that the day's purses now total $14-million."When we decided to increase entry fees, the board voted unanimously that the money generated by the increase in fees would go into purses," Van Clief said.Should the amount generated from the increased fees exceed the $1-million used to increase event day purses this year, the excess will likely be dedicated to the Breeders' Cup stakes program that subsidizes purses for selected races throughout the year.New to the Breeders' Cup this year is a consumer promotion to help sell walk-in tickets. All seats have been pre-sold, but with the walk-in ticket promotion in conjunction with the Guinness brewing company and the Ralphs supermarket chain, it is hoped that attendance at Santa Anita will exceed the projected 50,000 level.



Copyright © 2015 The Blood-Horse, Inc. All Rights Reserved.