Schwarzenegger Win Could Bring Changes for Racing
by Jack Shinar
Date Posted: 10/13/2003 2:42:09 PM
Last Updated: 10/16/2003 7:57:33 PM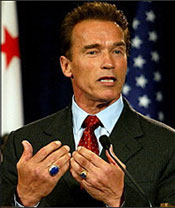 California governor-elect Arnold Schwarzenegger might be good for racing.
Photo: Associated Press

Among the issues on which California governor-elect Arnold Schwarzenegger will need to be educated is the importance of horse racing to the state's economy, industry leaders said."As an industry, we've done a bad job of communicating," said Jim McAlpine, Magna Entertainment Corp. president and chief executive officer. "Politicians don't know that we're a $4-billion industry in this state with 79,200 employees. That's a huge economic engine."McAlpine said MEC chairman Frank Stronach and Schwarzenegger, both immigrants to North America from nearby villages in the southern part of Austria, have much in common and are good friends. Stronach was in Europe following the recall of Gov. Gray Davis and Schwarzenegger's election Oct. 7 and could not be reached for comment.McAlpine said the change coincides with a perfect chance for the sport to reach out."There has never been a better time to do this," he said. "I think horse racing is enjoying a renaissance. This is the year of Seabiscuit, Triple Crown ratings were way, way up with 98 million people watching. That's huge. Those sort of numbers will get the attention of politicians. Many of them have even seen Seabiscuit."Hopefully in California, we'll be able to use this opportunity."Chris McCarron, general manager of MEC-owned Santa Anita Park, said Schwarzenegger and his wife, television personality Maria Shriver, have been invited as guests of management to the Oct. 25 Breeders' Cup World Thoroughbred Championships.The day after the 56-year-old Schwarzenegger won election by a wide margin over Lt. Gov. Cruz Bustamante, jockey Patrick Valenzuela interrupted an interview on the TV Games Network after he won the sixth race to direct his congratulations to the new governor."We all support you here at the track," Valenzuela said.But there was an air of cautious optimism within racing circles over the defeat of Davis, whose personal opposition to gambling was seen as a roadblock to the sport's expansion as the governor signed dozens of long-term gaming compacts with Indian tribes."Gov. Davis always had a bit of a chip on his shoulder toward racing," Hollywood Park president Rick Baedeker said. "Some say it was a distaste for all gambling, but others say he was soured by his short stay on the California Horse Racing Board when he was chief of staff. There was a threatened pari-mutuel clerk strike at Hollywood Park at the time. Gov (Jerry) Brown put him on the board to take care of the situation and he wasn't able to." With or without Davis in office, state racing officials expect to get legislation approved early next year that would help offset recent workers' compensation insurance cost increases with an increase in the pari-mutuel takeout rate on exotic wagers from 20.18% to 20.68%. The bill, which easily passed the Senate, stalled in the Assembly in September and is to be taken up again during the new session for lawmakers in January.A measure dropped in the last session that would allow expansion of the number of satellite wagering centers to heavily populated areas might also stand a better chance with the new governor, racing officials believe.Schwarzenegger went after special interests during his campaign and singled out the tribes for gaining excessive influence on legislation in exchange for campaign contributions. He said he would exact fees from Indian gambling interests, whose profits are exempt from state income tax laws."(Schwarzenegger) wants to make California a better environment for business," Del Mar president Joe Harper said. "Hopefully, if things are better for business, they should be better for racing, too."John Van de Kamp, president of the Thoroughbred Owners of California who was an unsuccessful candidate for the Democratic nomination for governor in 1990, noted the new governor is "going to be swamped by big, big issues.""The best information we have is that he likes horse racing," Van de Kamp said. "A lot of what he does will depend on staff input. We're just beginning to get indications on that."The change could also affect the composition of the CHRB, which is appointed by the governor. Davis selected all seven members (with legislative confirmation), though two--John Harris and William Bianco--recently re-appointed to four-year terms are Republicans. Commissioner Alan Landsburg's term is the first to expire in January, and board chairman Roger Licht's term concludes in July."I think Gov. Davis did a good job of appointing people to the board with an interest in horse racing," Licht said. "I don't know if that has been the case with past boards. I hope Schwarzenegger can do the same with his appointments."The election should be certified by the secretary of state by the end of October, and Schwarzenegger would take office within a few days of that.



Copyright © 2015 The Blood-Horse, Inc. All Rights Reserved.