Docent Shows Way in Maryland Million Classic
Date Posted: 10/11/2003 8:04:19 PM
Last Updated: 10/11/2003 8:33:44 PM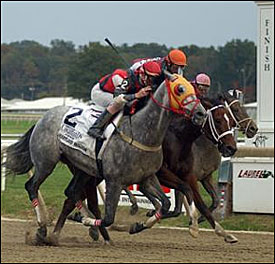 Docent, left, finishes first in the Maryland Million Classic, Saturday at Laurel Park.
Photo: AP/Gail Burton

(from Laurel Park report)
The photo finish camera became the final arbiter of the $200,000 Maryland Million Classic at Laurel Park and last year's winner, Mrs. Bernard J Daney's Docent, emerged on top once again – this time by a nose.A crowd of 21,108 attended the 18th annual Maryland Million. It was the 15th time in the history of the event that the attendance surpassed 20,000. The overall handle was a record $6,264,958, eclipsing the previous record of $6.1 million set in 1999. The in-state handle was up $860,000 from a year ago.Docent and jockey Clinton Potts appeared to be on course to notch a popular victory in the 1 3/8-mile event, but frontrunner Presidential Affair and jockey Elvis Trujillo were not about to bend. Presidential Affair had relinquished the lead a furlong from home, but the Monmouth Park invader came back at the grey gelding and the race came down to a head-bobbing, half-a-furlong drive to the finish line.Docent ran the classic distance in 1:54.94, just one-fifth off the track record, and paid $3.40. "When I went to by that horse I really thought I had him to rights, but my horse thought he had the job done and he said that's enough," Potts said,. "But when that horse came back to him he started right back in again and got the job done.""It was really tight," said winning trainer Tim Ritchey. "Too close for comfort actually. He ran another fantastic race, and so did the second horse. He tends to stay even with the other horses, so I was glad that they put our number up. I feel privileged to win this race again."Docent becomes the third horse to repeat as Classic champion, joining Timely Warning (1990-91) and Algar (1997-98) as back-to-back winners of the race. The gelding is also the fourth horse in the history of the Maryland Million to win three times. Countus In, Mz. Zill Bear and Safely Kept are the others. Docent finished first in the Sweepstakes as a three-year old in 2001."He ran great. I don't have any excuses," said Trujillo of Presidential Affair, through interpreter Ramon Dominguez. "I caught him right at the wire but I wasn't sure whether we got there first or not. It was a great race."(Chart, Equibase)



Copyright © 2015 The Blood-Horse, Inc. All Rights Reserved.