Perfect Drift in 'Perfect' Work; Stevens to Ride in Classic
by Steve Haskin
Date Posted: 10/11/2003 11:24:36 AM
Last Updated: 10/13/2003 2:10:18 PM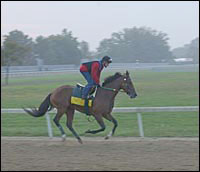 Perfect Drift, in Saturday workout at Churchill Downs' Trackside Training Center.
Photo: CDSN/Churchill Downs

Perfect Drift turned in a sharp 5-furlong work in 1:01 1/5 at Trackside Training Center Saturday morning, in preparation for the Breeders' Cup Classic – Powered by Dodge (gr. I). Gary Stevens has been named to ride the son of Dynaformer."He went perfect," trainer Murray Johnson said. "He was very strong finishing up and we couldn't be happier. I got him five-eighths in 1:01 1/5, galloping out in 1:13 flat , and pulling up 7 furlongs in 1:25 and change. He worked around the turn very well, and went from the eighth pole to the wire in :11 1/5. Whenever we've asked him, he's always finished up well."Gary Stevens will ride him in the Classic," Johnson said. Stevens has won eight Breeders' Cup races, but will be looking for his first victory in the Classic.Johnson said he and owner Dr. William Reed have been leaning toward the Classic for some time. "We've known pretty much what we were going to do, it was just a matter of lining everything up and making sure everyone was happy with what we were doing," Johnson said. "We've been heading in that direction even before the Hawthorne Gold Cup (gr. II)."Johnson also feels they have made their statement to the Breeders' Cup. "We felt we had a legitimate gripe, and we've had a lot of support," Johnson said. "When you get phone calls every day from other countries that are willing to pay everything, it just makes you wonder, 'Do I want to pay the $120,000 and do this or do I want to take a free ride somewhere?'"Johnson said he'd like to ship to Santa Anita on the Thursday before the race if he can line up a plane. "There's a Tex Sutton flight on Tuesday, and I heard maybe Wednesday, and hopefully we can get that changed to Thursday. We'll call on Monday and try to get that organized. There are two other horses, Great Notion and Freefourinternet, who also want to go on Thursday, so maybe we can work that out. We feel when you're shipping to California you do your best when you get in and get out."



Copyright © 2015 The Blood-Horse, Inc. All Rights Reserved.