BC Classic Picture Clouded; Several Still On Fence
by Steve Haskin
Date Posted: 10/6/2003 2:29:18 PM
Last Updated: 10/6/2003 3:46:06 PM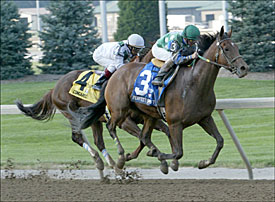 Perfect Drift, defeating favored Congaree in the Kentucky Cup Classic.
Photo: J. Stewart/Lang

With the defection of Mineshaft, as well as Empire Maker, the field for the Breeders' Cup Classic – Powered by Dodge (gr. I) is up in the air, and will be for another week, until several Eastern owners and trainers decide which way to go.It is looking more and more as if Perfect Drift will run, although no decision has been made by owner Dr. William Reed and trainer Murray Johnson. "We've been seriously reconsidering our position," said Reed's son Bryan. "Our change of heart has mostly to do with how extremely well this horse is doing now and the success of the last two weeks. He seems to be thriving and actually seems to be carrying better condition than in May. We still have some unresolved issues but are working towards some conclusions. Our horse's best interests have always come first, and there is now a chance that the Breeders' Cup may not necessarily contradict those interests."If Perfect Drift runs, he'll join Congaree, Medaglia d'Oro, and Ten Most Wanted to form the nucleus of the field. Pleasantly Perfect was added to the list of definite starters after his victory in the Goodwood Breeders' Cup (gr. II) on Oct. 4. However, Toccet, who finished last after fighting jockey Julie Krone's restraint down the backstretch, will head to Churchill Downs to point for the 7 1/2-furlong Ack Ack Handicap (gr. III), which he'll use as a prep for the Cigar Mile (gr. I) on Nov. 29.While the California-based horses are pretty much set, there are several New York-based trainers who are still undecided. Last year's Classic winner Volponi definitely will come as long as there is no damage to his hock, which he struck in the Meadowlands Cup (gr. III). Johnson said as long as the hock doesn't fill, the colt will run. Volponi was rammed hard at the start, suffering cuts on both front legs. Johnson said he came within inches of severing the artery on his right front leg. The colt's front leg then struck the hock behind. Johnson treated him with Bute and put him on antibiotics. He is optimistic everything will remain superficial, and that Volponi will return to defend his title.Also being considered are Evening Attire, third in the Jockey Club Gold Cup (gr. I), Bowman's Band, winner of the Meadowlands Cup on Oct. 3, and Dynever, runner-up in the Meadowlands Cup."We're monitoring the situation and will make a decision by the end of the week," said Evening Attire's trainer Pat Kelly. "The horse we were concerned about was Mineshaft, and with him out that changes everything. We'll breeze him this week and start thinking about it."Allen Jerkens, who took over the training of Bowman's Band just days before the Meadowlands Cup, said, "We're kicking it around. We'll see how he does this week before making a decision."Chris Clement, trainer of Dynever, says if the colt breezes well next Sunday or Monday he sees no reason why he shouldn't be pre-entered in the Classic. "He gave a pound to a good older horse and finished well over a track that favors speed," Clement said. "After his work, I'll discuss it with the owners. I would have loved to run him in the Jockey Club Gold Cup, but he came down with a fever and we needed the extra week." One horse who has been pointing for the Classic is the Irish colt, Hold That Tiger, who ran a bang-up second to Mineshaft in the Woodward Stakes (gr. I). He is scheduled to fly to California on Oct. 21. Tom Albertrani said he hasn't heard anything from the Godolphin hierarchy regarding Moon Ballad, who most likely is not being considered. Nor is Grand Hombre, who finished second in the Indiana Derby (gr. III). Trainer Michael Dickinson said Soto, runner-up in the Super Derby (gr. II, will not run in the Classic.Another possibility for the Classic is Tenpins, runner-up in the Hawthorne Gold Cup (gr. II). Wando, third in the Indiana Derby, is 99% certain not to run, according to his connections.



Copyright © 2015 The Blood-Horse, Inc. All Rights Reserved.