Opportunity Knocks
by Ray Paulick
Date Posted: 10/1/2003 1:38:44 PM
Last Updated: 10/1/2003 3:55:56 PM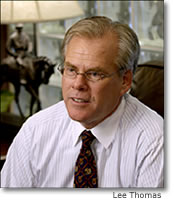 Ray Paulick
Editor-in-Chief


Will Farish doesn't owe racing anything, and just because he served as the longtime chairman of the executive committee of the Breeders' Cup, he should not feel obligated to run his horses in the Breeders' Cup World Thoroughbred Championships if he clearly doesn't want to. Having said that, however, it is clear the master of Lane's End Farm has an awesome, unmistakable, and rare opportunity to help the sport he loves so much. All he has to do, provided the horse is in good physical condition, is ship Mineshaft to California to contest the Oct. 25 Breeders' Cup Classic - Powered by Dodge (gr. I). Mineshaft has been nothing short of sensational throughout 2003, winning seven of nine starts, including four grade I events. His grade I victories--in the Pimlico Special, Suburban Handicap, Woodward Stakes, and Jockey Club Gold Cup, respectively--came with increasing ease, to the point that his stretch runs were not so much part of a race but something at which to marvel and savor. Deservedly, he is the frontrunner for champion older male and Horse of the Year. However, through no fault of his own, Mineshaft has faced little in the way of top competition. To be an undisputed champion, he needs to run in the Breeders' Cup Classic. It has already been decided the 4-year-old son of A.P. Indy will be retired to stud at Lane's End for 2004, so keeping him in training another year is not an option. Mineshaft is a classic racehorse with a fantastic pedigree, and it would be difficult to find a more promising or valuable stallion prospect anywhere. Farish and his partners, James Elkins and Temple Webber Jr., will be in for a barrage of criticism if they sidestep the Breeders' Cup with a healthy Mineshaft and retire him fresh off his victory in the Jockey Club Gold Cup at Belmont Park Sept. 27. The Classic is already smarting from several key defections: Empire Maker is injured and probably retired; Funny Cide has gone off form; Perfect Drift's connections have strangely opted for other opportunities; Candy Ride has been put on the shelf for a rest; Ten Most Wanted's connections are on the fence. With most of those top horses likely gone, a decision to run Mineshaft in the Classic would be a tremendous boost, giving the Breeders' Cup, National Thoroughbred Racing Association, broadcast partner NBC, and race sponsor Dodge a powerful vehicle (pun intended) to market this important event to the public. Without Mineshaft, the Classic would fall woefully short by Breeders' Cup standards, and any promotions proclaiming it an event that determines champions would ring hollow, if the best horse in training is not there. It appears the easy decision would be to send Mineshaft to Lane's End immediately and get him ready for his next career, especially since many Eclipse Award voters already have conceded Horse of the Year honors to him. By contrast, some voters have said they wouldn't give Mineshaft their Horse of the Year vote if he is kept out of the Breeders' Cup. He probably has little to lose if he runs in the Classic and doesn't win. His stud fee would be $100,000 either way. Farish, whose skin has thickened since President Bush appointed him the U.S. ambassador to the Court of St. James in England, can take the criticism the public or press may dish out if he skips the Breeders' Cup. Let's remember: it's his horse. But Farish also knows the good the Thoroughbred industry in general, and the Breeders' Cup in particular, would get from Mineshaft participating in the biggest race of the day at the World Thoroughbred Championships. Farish knows that by sending Mineshaft to California to take on all comers in the Classic, he will be setting an example the rest of the industry can follow for years to come. It's a rare opportunity, indeed.



Copyright © 2015 The Blood-Horse, Inc. All Rights Reserved.