Countdown to the Cup: Classic Predictions
Updated: Thursday, October 30, 2003 11:41 AM
Posted: Monday, September 29, 2003 1:43 PM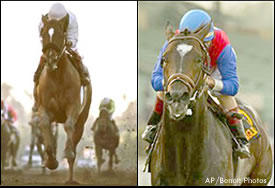 Photo: Composite
Haskin: Will Classic come down to Congaree vs. Medaglia d'Oro?
With the Breeders' Cup Classic – Powered by Dodge (gr. I) in a state of confusion, this is as good a time as any to predict how this year's Classic picture will unfold.* Mineshaft, Candy Ride, Perfect Drift, and Funny Cide, all reportedly healthy and sound, will meet for Horse of the Year honors in the Clark Handicap (gr. II) at Churchill Downs on Nov. 28.* Pat Day's agent, Doc Danner, will begin pleading with Murray Johnson this week not to run Perfect Drift in the Classic, so he doesn't have to choose between him and Ten Most Wanted.* Funny Cide will be defeated in the Empire Classic. Although he'll still win the Eclipse Award as champion 3-year-old, he'll lose out as New York-bred Horse of the Year to Gander.* Azeri will bounce back big-time in the Distaff (gr. I) after having other things on her mind in the Lady's Secret BC (anyone notice her gawking at the grandstand and the infield going to the gate, tossing her ears around? It could mean absolutely nothing, but with 5-year-old mares you never know. Just a wild thought).* Bob Baffert takes exception to Bobby Frankel's comment that Medaglia d'Oro is the only speed in the Classic, and that he may have Peace Rules sit off him in an attempt to finish 1-2 for Edmund Gann. In response, Baffert starts giving Congaree long, slow works and enters During in the Classic as his rabbit. Frank Stronach and the Niarchos family, upon hearing that news, insist that Frankel run their late-closers, Ghostzapper and Aldebaran, in the Classic.* Stonerside Stable purchases a share Mineshaft, with the stipulation they receive 50% off in the event the horse runs in the Classic and gets beat by Congaree.* By the time they finally do run the Classic, Volponi will set a precedent by going from 43-1 one year to 5-2 the next year without winning a race in between.* Allen Jerkens withdraws Puzzlement from Classic consideration when he realizes there are no more giants left to slay.* Godolphin, fearing that Sulamani has become too Americanized to handle European invaders like High Chaparral, Ange Gabriel, and Dalakhani, elect to run him in the Classic instead, especially with Tiznow not in the race.* Aidan O'Brien, believing the fairies (or faeries) of Tipperary have put a spell on the top American horses, puts down a huge bet with Ladbroke on Hold That Tiger.* Finally, Toccet wins the Classic, which inspires owner Dan Borislow to write a book entitled "Tips on Remodeling."OK, time to get serious. The Classic
is
in serious danger of losing a great deal of its luster, especially if Mineshaft defects. There are a lot of bad precedents being set, but we have to face the fact that the people involved have different agendas, whether it be a big-time owner/breeder like William Farish being reluctant to ship to California at the end of a long year and doing what he feels is right for his investors and the horse, or a smaller operation like the Reed family unwilling to lay out $120,000 to start their horse, and whatever personal issues may be involved. Rumors persist that Candy Ride, who has made only six starts in two years, is not sound, although his trainer disputes those rumors, insisting he's simply "doing what's right" for the horse. As for Funny Cide, his trainer was reluctant to run him in the Kentucky Derby (gr. I), so it should come as no surprise he wants no part of sending him to California for the Classic, especially considering the horse was knocked out by a fever and viral infection in August.With all these horses absent, it would obviously create a large void in this year's Classic. There will also be the nagging thought that Mineshaft likely would have run had the World Thoroughbred Championships been at Belmont this year, or possibly even Churchill Downs. But the event is like a roulette wheel. You just hope it stops in the right place at the right time. Perhaps we're just dealing with the fact that this year was not the right place for those involved, and it will simply be an aberration. Then again, perhaps either Mineshaft or Perfect Drift
will
show up. If Mineshaft doesn't run and Perfect Drift does and wins, that will put a whole new twist on Horse of the Year honors, considering Perfect Drift did beat Mineshaft the only time they met. So, it is possible that Horse of the Year is Perfect Drift's to win or lose. To concede racing's highest honor when it's right there in front of you, the horse's connections must have a very good reason not to run. It'll be interesting to see how this all turns out.If neither runs, then all we can do is look ahead and hope everyone else remains intact. If either Medaglia d'Oro or Congaree wins the Classic impressively, they no doubt would get plenty of votes for Horse of the Year. Both were dominant forces early in the year, while traveling across the country, and both won a prestigious grade I stakes in the summer. If one of them can conclude his campaign with a bravura performance against a field of classy grade I winners in racing's championship event, the voters certainly would take that into consideration. But, let's face it, if Mineshaft doesn't run, it would take an extraordinary performance to beat him out for Horse of the Year honors.The Classic, however, is not just about Horse of the Year. There are great stories out there, and we could have one of those heart-pounding finishes the Classic is known for. Whoever wins, the victor will be embraced by the public and the media, and for that one day he will sit atop the racing world, his place in history secure.
FREE! E-Newsletters from The Blood-Horse!...
Follow the top stories of major racing events, racing previews and results with FREE e-newsletters from bloodhorse.com. As news develops, we'll deliver updates to your inbox. Follow important events moment by moment, step by step!