Ten Most Wanted Not Definite for Breeders' Cup Classic
by Margaret Ransom
Date Posted: 9/23/2003 9:36:49 PM
Last Updated: 9/24/2003 1:01:59 PM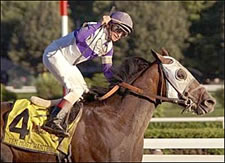 Ten Most Wanted, winning the Travers.
Photo: Associated Press

Super Derby (gr. II) victor Ten Most Wanted arrived home at his Hollywood Park base from Louisiana Monday afternoon and was in "great" shape on Tuesday, assistant trainer Aimee Dollase said. "He's doing well today and settled in fine," said Dollase, who serves as assistant to her father, Wally. "It's amazing how much he's improved and keeps improving. He's taller and he's stronger and holds his weight very well when he ships, so that's good." Though the Breeders' Cup Classic - Powered by Dodge (gr. I) is the most likely next start for the colt, Dollase said no final decisions have been made and there's an outside chance he'll skip the race and wait for a 4-year-old campaign. "It is the obvious next step, of course" Dollase said. "But we're going to wait a couple weeks before making an official decision. We're going to see how the Classic shapes up and then go from there. It's one thing to face 3-year-olds, but another when he has to face older horses for the first time. I mean look at how things changed just with Candy Ride being out. I don't think it's premature to say he's heading to (the Classic), but we're going to wait a bit before we decide officially." Ten Most Wanted, who races for the partnership of J. Paul Reddam, Michael Jarvis, James Chisholm and Kenneth Smole, et al., won the Travers Stakes (gr. I) and Illinois Derby (gr. II) and also finished second in the Belmont Stakes (gr. I) for earnings of $1,553,460.



Copyright © 2015 The Blood-Horse, Inc. All Rights Reserved.