Keeneland Closes Out Record-Setting Run
Date Posted: 9/20/2003 5:52:38 PM
Last Updated: 9/25/2003 2:08:52 PM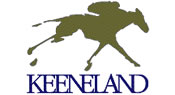 September yearling sale enjoys unprecedented success.


Keeneland's September yearling sale ended Saturday with a record average and median. The auction also posted the second-highest gross in its history.During the sale's 12-day run in Central Kentucky, 2,969 horses were sold for a gross of $274,125,300, second only to $291,827,100 for 3,313 horses in 2000. This year's figure was up 30% from the 2002 total of $210,809,000.The average price of $92,329 increased 28.5% from $71,850 last year. The previous record was $88,085, set in 2000. The median was $34,000, an increase of 13.3% from the previous mark of $30,000 set in 1999 and matched last year. "Whether you evaluate it by gross sales, average, or median price, it was a strong sale from start to finish," said Geoffrey Russell, Keeneland's director of sales "The selected sessions registered huge gains from last year, but the middle portion of the sale was particularly strong, too."Auctioneers sold 27 horses for $1 million or more compared to 15 last year. The number matched the second-highest total ever from the sale's 2001 edition. The record of 28 was established in 2000.The top price of the sale was $3.8 million for a filly by Gone West out of Touch of Greatness. John Ferguson purchased her for Sheikh Mohammed o Dubai. The filly's consignor was Three Chimneys Sales, agent.The amount was the third-highest price ever paid for a yearling filly at Keeneland. Ferguson, who was accompanied by Sheihk Maktoum, was the sale's leading buyer, spending nearly $21 million.Irish agent Demi O'Byrne, on behalf of John Magnier and Michael Tabor, paid the top price for a colt--$3.6 million -- for a son of Danzig out of Queena. Helen Alexander's Middlebrook Farm, as agent, sold the colt. Lane's End was the leading consignor with $32.9 million in gross receipts.During Saturday's final session, Keeneland sold 173 horses for a gross of $1,349,100, an average of $7,798, and a median of $5,000. At the corresponding session a year ago, 154 horses grossed $1,268,400 and averaged $8,236. The median was $5,500.Fred Edick paid the top price of $55,000 during Saturday's session for a bay filly by Kissin Kris out of Heart's Goldengirl. Oak Lawn Farm, as agent, sold the filly.12th Session Comparison
Year: 2003
No. Sold: 173
Gross: $1,349,100
Average Price: $7,798
Median Price: $5,000Year: 2002
No. Sold: 154
Gross: $1,268,400
Average Price: $8,236
Median Price: $5,500Final Cumulative Comparison (After 12 Sessions)
Year: 2003
No. Sold: 2,969
Gross: $274,125,300
Average Price: $92,329
Median Price: $34,000Year: 2002
No. Sold: 2,780
Gross: $210,809,000
Average Price: $71,850
Median Price: $30,000Results From Keeneland



Copyright © 2015 The Blood-Horse, Inc. All Rights Reserved.