Pincay to Sue Santa Anita
by Lenny Shulman
Date Posted: 9/20/2003 4:33:01 PM
Last Updated: 9/22/2003 9:24:55 AM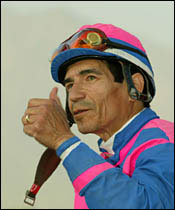 Laffit Pincay Jr.
Photo: Benoit & Associates

Retired jockey Laffit Pincay Jr. is planning to file a lawsuit against Santa Anita racetrack, Huntington Ambulance, and physician's assistant Angel Delgadillo the week of Sept. 22 alleging negligence in the treatment of the injuries that ended his riding career.The 56-year-old jockey was involved in a bad spill March 1 while riding Trampus Too in a race down the hillside turf course at the Arcadia racetrack. When Rainman's Request clipped heels with Pincay's mount, the horse went down and Pincay was thrown forward over its head. The horse subsequently rolled on top of him.According to the lawsuit, which will be filed by Pincay's attorney, Neil Papiano, "Huntington Ambulance failed to follow appropriate procedures following a serious collision...the ambulance group permitted Pincay to walk under his own power to the ambulance and then to the first aid station operated by Santa Anita. He was met there by Angel Delgadillo, who wore a white lab coat identical to those worn by physicians. Pincay was unaware that Delgadillo was not a physician, but a physician's assistant. A doctor was never present in the first aid room at any time during the examination.""He said, 'I'm Dr. Delgadillo' and everyone there called him 'doctor,' " charged Papiano. "They should have taken him right to Arcadia Methodist Hospital, which is directly across the street. They took Julie Krone right there when she was injured shortly afterward. The ambulance company said 'Sorry, we have to get back for the next race.' "The suit claims that Delgadillo did not try to stabilize the injury, which proved to be two broken bones in Pincay's neck. In addition, it charges he did not order any X-rays or blood work. The suit claims that although Pincay told Delgadillo he could not move his head and was experiencing severe pain, Delgadillo placed his hands on the side of Pincay's head and forced it severely to each side and backward and forward. Following the manipulation, the suit charges, Delgadillo told Pincay he was not seriously injured, but was simply experiencing soreness. He was told to go home, take pain relievers and muscle relaxers, and there would be no problem, said Papiano."We won't have any comment, I can't tell you anything until I see what the lawsuit is," said Santa Anita's general counsel, Frank DeMarco. "But our policy is we don't comment on litigated matters. That's just standard procedure." Initial reports after the injury said Pincay suffered soreness and abrasions, but was otherwise uninjured. When the rider showed up to ride several days later, however, he was still experiencing pain and went to the hospital, where his condition was found to be much more serious. He was put in traction and his neck was immobilized. Pincay had been jogging in the interim trying to loosen his neck up."Nobody knows whether he could have continued his career if he had gotten competent medical help," said Papiano. "But other people have come back. It was a bad injury, so you don't manipulate it, jog with it, or move it back and forth. It was hanging by a sliver when he got to the hospital and they told him at that point he couldn't ride again."If the case goes to court, it will be decided by a jury.



Copyright © 2015 The Blood-Horse, Inc. All Rights Reserved.