Countdown to the Cup: Don't Blame Congaree for Kentucky Cup Classic Defeat
Updated: Thursday, October 30, 2003 11:41 AM
Posted: Monday, September 15, 2003 7:15 PM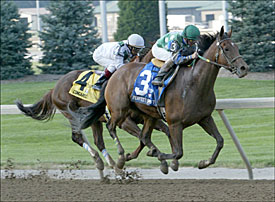 Photo: J.Stewart/Lang Photos
Congaree, background, finishing just behind Perfect Drift in last week's Kentucky Cup Classic.
Although many will have the tendency to dismiss Congaree in the Breeders' Cup Classic (gr. I) after being outkicked by Perfect Drift in the 1 1/8-mile Kentucky Cup Classic (gr. II), the son of Arazi cannot be blamed for the defeat.There is no saying he was going to beat Perfect Drift anyway, especially over a track that Perfect Drift has already shown an affinity for. And let's face it, Perfect Drift has proven he's as good as anyone right now.But for Congaree, the Classic is going to be another story. It's true that 1 1/4 miles probably is not his best distance, but with the right strategy, he's still one of the most brilliant and classiest horses in the country.In the Kentucky Cup, the strategy appeared to be to slow the pace down and curtail a good deal of the colt's speed early. The question is, why? Congaree likes to go fast, wants to go fast, and is at his best when he goes fast. Regardless of how slow he goes early, he is not going to out-close a strong closer like Perfect Drift when he allows a horse of that caliber and running style to breathe down his neck the whole way. Nor is he going to out-close Mineshaft or Candy Ride under the same circumstances. The key with a horse like Congaree is to separate him from the tactical closers, and if they want to stay in close contact with him they have to come out of their game to do it. Sure, he is going to slow down in the final quarter, but so is anyone else who was in close range of him through testing fractions.Edgar Prado was riding Congaree for the first time, and was as upset after the race as anyone. Bob Baffert said Prado felt he was doing the right thing. Prado is a great rider, one of the very best in the country, and he will learn a lot about the horse from this race.In the Hollywood Gold Cup, Congaree sat right behind a :45 3/5 half and 1:09 2/5 three-quarters before kicking in gear and separating himself from Harlan's Holiday and Kudos. Although he came home in :26 1/5, the others had little punch left to do anything about it. Horse of the Year Skip Away often employed the same strategy. He wasn't a particularly strong horse in the final quarter mile, but in the 15 races in which he had the lead at the quarter pole, he won 14 of them, with his only defeat coming in the Belmont Stakes (gr. I). Horses like Skip Away and Congaree don't have to win their races in the final quarter. They can win them in the second, third or fourth quarter of the race by making their opposition expend more energy early than they're used to, taking away their closing punch.In the Santa Anita Handicap, Congaree had his main opponent, the closer, Milwaukee Brew, sitting off his flank through a half in :46 3/5. Instead of opening up in 1:10 and change and trying to separate himself from Milwaukee Brew, he slowed it down slightly with three-quarters in 1:11 1/5. That allowed Milwaukee Brew to stay with him and just out-close him by a head.That's not to say Congaree should set blistering fractions, but facing tactical closers like Perfect Drift, Mineshaft, and Candy Ride, he has a better chance of winning by going in :46 and 1:10, opening a clear lead at some point, than he does going in :48 and allowing them to breathe down his neck.In the Kentucky Derby (gr. I), when Congaree was nothing more than an up-and-coming, inexperienced colt, he tracked the fastest pace in Derby history, opened a clear lead and still beat every horse but two, and the winner had to run the second-fastest Derby in history to beat him.In short, if he gets beat in the Classic, then at least he went down fighting, doing what he does best. He's already shown he's not going to beat these kind of horses going 1 1/4 miles doing it the other way.
Murray Johnson Makes His Case For Skipping Classic
There will be a good amount of pressure put on Murray Johnson and Dr. William Reed to run Perfect Drift in the Classic following his three straight dirt victories, including conquests over Mineshaft and Congaree. But as of now, Johnson is steadfast in his decision to skip America's richest race."We're expecting people to try and change our minds, but we had a good talk about it, and there are a lot of people who support what we're doing," Johnson said. "I realize the casual fan wants us to go because they want to see the matchup and that's all that matters."The entry fee is a big part of it, especially when you get offers elsewhere where they pay all the expenses. It's a combination of several things. The entry fee has gone up another $40,000, from $80,000 to $120,000. It went from 2% to 3 % and they didn't put any of the money into the purse. Why would we run for $80,000 last year and have to pay another $40,000 this year? We had a bad experience last year and they want more money out of it."It's better for racing to have him around for a long time, and it's better for us as a racing stable to keep what we earn. You know, we're not going to have years like this all the time. There have been years where the farm lost money. Where Dr. Reed comes from is where they should be encouraging people and showing them it can be done, yet they keep doing things that make people believe it's a rich man's sport."A spokesperson for the Breeders' Cup explained that with the deaths of top stallions like Seattle Slew and Unbridled last year, funding was down for stallion nomination fees. With the purses for the Juvenile and Mile being raised in 2003, the money had to come from the entry fees. The purse for the Classic is expected to increase to $5 million next year.Another Breeders' Cup spokesperson said they have not given up in their attempt to get Johnson and Reed to change their mind.In another matter, the Breeders' Cup currently is involved in discussions with Candy Ride's owners, Sid and Jenny Craig, and their lawyer, going over all the details involving the Craigs putting up the $800,000 supplement to run the Pacific Classic (gr. I) winner in the Breeders' Cup Classic. All indications are that everything is moving along smoothly on that front.
Frankel to Make Decision on Wild Spirit
The Breeders' Cup could lose another top star if Bobby Frankel advises Wild Spirit's owner, Oussama Abou-Ghazale, not to put up the filly's $400,000 supplementary fee for the Distaff (gr. I)."It's Bobby's decision," Abou-Ghazale said after Wild Spirit's brilliant victory in Saturday's Ruffian Handicap (gr. I). "I always leave the decisions to the professionals in whatever business it is. In this business, you never interfere with the trainer."Frankel said one option is to run in the Beldame (gr. I) and skip the Distaff, but he won't make any decision until it gets closer to the Breeders' Cup and he has a chance to talk it over with the owner.Abou-Ghazale, who refers to his first name as "the Oussama the Americans will like," is a native of Jerusalem who lived in Dubai for 10 years before moving his fruit import and export business to Chile 23 years ago. He has had a love affair with horses since being around his grandfather's Arabians when he was child. "I am very lucky to be able to grow two wondering things – fruits and horses," he said.
Can Anyone Beat Cuvee?
Something pretty extraordinary better emerge quickly in California if the home team is to have any chance of landing the Breeders' Cup Juvenile (gr. I). Futurity (gr. I) winner Cuvee is a running machine who takes no prisoners. With the exception of the Bashford Manor Stakes (gr. III), in which he had a nightmare of a trip, Cuvee has decimated his opponents in four races at four different distances at three different tracks, including three stakes victories.He has already gone where few Carson Citys have gone and shows no signs of slowing down as the distances stretch out. His time of 1:35 3/5 for the mile over a very slow racetrack was sensational. By comparison, the Matron, run a race earlier, went in 1:38.
FREE! E-Newsletters from The Blood-Horse!...
Follow the top stories of major racing events, racing previews and results with FREE e-newsletters from bloodhorse.com. As news develops, we'll deliver updates to your inbox. Follow important events moment by moment, step by step!