Former Governor Supports Casino Gaming at Tracks
Date Posted: 9/15/2003 1:08:01 PM
Last Updated: 9/15/2003 1:24:16 PM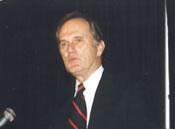 Former Kentucky Governor Brereton C. Jones
Photo: File

With a push for a constitutional amendment on expanded gambling looming in 2004, former Kentucky governor Brereton Jones said he would help fashion legislation to authorize full-scale casino gambling at racetracks.Jones, who owns Airdrie Stud near Midway, told the Kentucky Post he would seek support for his plan before the Nov. 4 gubernatorial election. Jones said he isn't in favor of proliferation of gambling, but that the state keep its head in the sand in light of what's happened in neighboring states."I'm not trying to promote casinos," Jones told the Post. "I'm just trying to find a way to meet the needs we have without raising taxes."Turfway Park president Bob Elliston said 2004 legislation would take the form of a constitutional amendment. Efforts to pass electronic gaming for racetracks in the past two legislative sessions failed."While we don't think it's legally necessary (to have a constitutional amendment), it appears politically necessary," Elliston told the Post.Jerry Carroll, former owner of Turfway and owner of Kentucky Speedway, doesn't agree with Jones' plan to have casino gambling only at the eight racetracks in the state. "There's no rhyme or reason why the horse industry should have a monopoly on gambling," said Carroll, who was on hand for the Kentucky Cup program at Turfway Sept. 13.



Copyright © 2015 The Blood-Horse, Inc. All Rights Reserved.