Fourth Day of Keeneland Keeps Rolling at Full Steam
Date Posted: 9/11/2003 8:48:05 PM
Last Updated: 9/12/2003 5:27:14 PM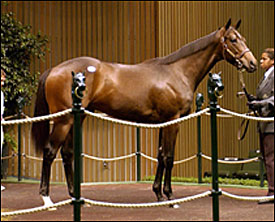 Forestry colt tops fourth day of yearling sale.
Photo: Anne M. Eberhardt

The fourth day of the 12-day Keeneland September yearling sale kept rolling along at full steam, again posting across the board increases in every category and drawing favorable comments from both sales officials and buyers.During Thursday's session, 252 head sold for a gross of $31,809,500 and an average of $126,228. The median was $90,000. The gross was up 42.4%, the average up 37.9%, and the median increased 25%.Last year on the fourth day, the Central Kentucky sales company sold 244 head for $22,330,500 and an average of $91,518. The 2002 median was $72,000.Through the first four days of the auction, 856 head have sold for $198,223,500 -- with an average price of $231,570. The four-day cumulative median price is $140,000. During the same four-day period last year, 879 head had sold for a gross of $150,044,000 and an average of $170,699. The median was $105,000.Keeneland director of sales Geoffrey Russell called the first four days fantastic, but added that the market remains selective."The first two books have been fantastic," Russell observed, "but this market is very selective and not every consignment is having a great sale. The healthy gains we experienced during the select sessions have carried over to Wednesday and Thursday."Bob and Beverly Lewis bought three of the 10 highest priced lots Thursday, including a session topping $950,000 son of Forestry.Consigned by Taylor Made Sales Agency, Forest Fighter is the second foal out of the Alydar mare Alyfair, who is a half-sister to graded stakes winners Advancing Star and Darby Fair. The colt is headed to the barn of trainer D. Wayne Lukas, who was seated beside trainer Bob Baffert during the bidding."We all cross check the ones we like, and this one ended up on everyone's list," Lukas said. "He's an exceptional individual and there is a lot to like about him. I think Bob Baffert really liked him, too."Lukas called the first four days of the sale exceptionally strong and said the money is available to be spent on quality offerings."Buyers are being very aggressive on these types of horses," Lukas said. "With the Classic pedigrees and conformation the interest is very strong."The Lewis' paid $475,000 for a filly by Unbridled's Song out of Runaway Spy and $450,000 for a filly by Golden Missile out of the grade III stakes winner Arches of Gold.Fred Seitz's Brookdale Farm, agent for Mr. and Mrs. Victor Divivo, sold the Unbridled's Song filly and Threave Main Stud sold the daughter of Golden Missile.Demi O' Byrne was again active at the top of the market. The Irishman paid $800,000 for a colt by Tale of the Cat out of Patchiano. Michael Byrne sold the yearling, which he had purchased as a weanling for $140,000 at the 2002 Keeneland November mixed sale for the Hill 'n' Dale Sales Agency consignment.O'Byrne, who was seated with trainer Patrick Biancone during the bidding, said the colt resembles Whoopi Cat, a daughter of Tale of the Cat who is trained by Biancone. "He was one of the best moving horses of the sale, and he had a beautiful face. And I love the sire," O'Byrne said.No decision has been made as to where the colt will be sent for training.Russell is optimistic about the remaining 16 days of the sales, noting 105 new accounts had been established for the 2003 sale. Of the 105, only 14 have been active during the first four days.Keeneland has a dark sale day on Friday, but the auction will resume at 10 a.m. on Saturday and continue through Sept. 20.Fourth Session Comparison
Year: 2003
No. Sold: 252
Gross: $31,809,500
Average Price: $126,228
Median Price: $90,000Year: 2002
No. Sold: 244
Gross: $22,330,500
Average Price: $91,518
Median Price: $72,000Cumulative Comparison (First Four Sessions)
Year: 2003
No. Sold: 856
Gross: $198,223,500
Average Price: $231,570
Median Price: $140,000Year: 2002
No. Sold: 879
Gross: $150,044,000
Average Price: $170,699
Median Price: $105,000Results From Keeneland



Copyright © 2015 The Blood-Horse, Inc. All Rights Reserved.