Keeneland Sale Opens With Gains in Every Major Category
by Ron Mitchell
Date Posted: 9/8/2003 8:14:14 PM
Last Updated: 9/9/2003 6:18:35 AM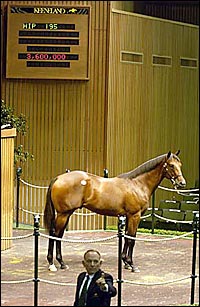 Danzig colt, sold for $3.6 million.
Photo: Anne M. Eberhardt

Boosted by competitive bidding from leading international buyers, the Keeneland September yearling sale began on a strong note Monday at the company's sales pavilion in Lexington, Ky.Keeneland reported 166 horses were sold for a gross of $60,555,000. The average price of $364,789 represented a 41.1% gain over the $258,621 average for the 195 horses that grossed $50,431,000 at the comparable session one year ago. The session median of $225,000 was up 32.4% over the first session median price of $170,000 in 2002. The 70 horses that did not meet their reserve prices represented 29.7% of the total through the ring, compared with an RNA rate of 28.3% in 2002 when 77 horses did not sell.Keeneland sales director Geoffrey Russell attributed the strength of the sale to a combination of factors, including the presence of horses that otherwise would have been offered at Keeneland's traditional July yearling sale. That sale was not held this year due to the effects of Mare Reproductive Loss Syndrome."I think we had great buildup to this sale," Russell said. "People were happy with what they saw and were very keen to get into the game early in the session. I think it is a very selective market. When they liked one, it went through the roof. This crop is a solid group of individuals. I think when you have the principals here -- the owners instead of just the agents -- it helps tremendously."The session's top price of $3.6-million was paid by Irish agent Demi O'Byrne, as agent for the Coolmore Stud interests of John Magnier and Michael Tabor, for a Danzig colt produced from the champion Mr. Prospector mare Queena.The colt is a full brother to the Early Times Hollywood Derby (gr. IT) winner Brahms, who was raced by O'Byrne's clients. O'Byrne said he was interested in the colt bought Monday because he was a better prospect than Brahms."This is a better looking horse," O'Byrne said. "He is bigger and scopier."Helen Alexander, whose Milldebrook Farm consigned the colt, said she did not anticipate what the colt might bring. "I never try to project what horses might bring," said Alexander, who consigned the colt on behalf of her sister, Emory Hamilton. "I think you just have to get lucky. I am thrilled."One of the most-touted yearlings in the sale, an Unbridled colt produced from champion Serena's Song, was bought by Canadian Eugene Melnyk for $2.8-million. Agent Robert McMartin, in touch with Melnyk via telephone during the sale, said the owner was getting hesitant as the price rose. "That was Eugene's choice," McMartin said.Consigned by Craig Bandoroff's Denali Stud, the colt is a half-brother to graded stakes winner Sophisticat and stakes winner Serena's Tune.Philip Hronec, manager of Melnyk's Winding Oaks Farm in Ocala, Fla., said the colt was purchased to eventually stand at stud at the farm. "If he hits a little, he is a good stallion prospect," Hronec said.The session's third-highest price of $2.4-million was also paid by O'Byrne for Unbridled Evil, a half-sister to Favorite Trick. A daughter of Unbridled produced from stakes winner Evil Elaine (by Medieval Man), the filly was consigned by Lane's End.O'Byrne said the filly was attractive because she was a half-sister to Favorite Trick and that she looks "like a good racing prospect." O'Byrne said he thought the filly would bring less than his final purchase price.McMartin, on behalf of Melnyk, went to $1,750,000 for a Storm Cat colt produced from the stakes-placed Exceller mare Exing. The colt was consigned by Denali Stud.Earlier in Monday's session, the American-based Jayeff B Stables operation of Richard Santulli and George Prussin acquired two well-bred fillies. Represented by agent Reynolds Bell Jr., Jayeff B went to $1,350,000 to acquire a full sister to millionaire Lu Ravi and paid $1,100,000 for a full sister to champion Banshee Breeze.Consigned by Lane's End, Lu Ravi's sister was sired by A.P. Indy and produced from the grade III-winning Seeking the Gold mare At the Half. Also a daughter of A.P. Indy, Lu Ravi did not win an elusive grade I race but had 11 victories and earned $1,819,781 before being retired in April 2001.The full sister to Banshee Breeze was consigned by Mill Ridge Sales. Like Banshee Breeze, the May 17, 2002 foal was sired by Unbridled and produced from the graded-placed Known Fact mare Banshee Winds. The winner of 10 of 18 career starts, with $2,784,798 in earnings, Banshee Breeze had five grade I wins to her credit, including the Three Chimneys Spinster Stakes at Keeneland while racing for the partnership of Jayeff B and Jim Tafel.Bell said the Jayeff B partners were attracted to both fillies because of their strong pedigrees and because both "looked like athletes." He said the prices paid for each were "where we expected to be."Sheikh Mohammed of Dubai made first appearance at an American Thoroughbred auction since the September sale of 2001, which was disrupted by the terrorist attacks on the World Trade Center and Pentagon, buying two of the seven figure horses sold Monday.John Ferguson, signing tickets on behalf of Sheikh Mohammed, wnet to $1.6 million for a Storm Cat--Seeking Regina colt from the Eaton Sales consignment and purchased a Kingmambo --Solar Bound colt for $1.2 million from the Denali consignment.The sale continues through Sept. 20.Monday's Top Prices:Hip Number--Description/Consignor/Buyer195--$3,600,000/bay colt, Danzig -- Queena/Middlebrook Farm/D. L. O'Byrne215--$2,800,000/dark bay/brown colt, Unbridled-Serena's Song/Denali Stud/Eugene Melnyk86--$2,400,000/bay filly, Unbridled-Evil Elaine/Lane's End/D. L. O'Byrne88--$1,750,000/bay colt, Storm Cat-Exing/Denali Stud/Eugene Melnyk212--$1,600,000/chestnut colt, Storm Cat-Seeking Regina/Eaton Sales/John Ferguson28--$1,350,000/bay filly, A.P. Indy-At the Half/Lane's End/Reynolds Bell Jr., agent227--$1,200,000/bay colt, Kingmambo-Solar Bound/Denali Stud/John Ferguson160--$1,150,000/chestnut colt, Giant's causeway-Mim's Golden Girl/Valkyre Stud, agent for Michael and Reiko Baum/My Meadow View Farm33--$1,100,000/dark bay/brown filly, Unbridled-Banshee Winds/Mill Ridge Sales/Reynolds Bell Jr., agent236--$1,000,000/bay filly, Storm Cat-Successfully/Lane's End/D. L. O'ByrneLive hip-by-hip results from bloodhorse.com, Keeneland



Copyright © 2015 The Blood-Horse, Inc. All Rights Reserved.