Nose Separates Pat V., Krone in Match Race
by Jack Shinar
Date Posted: 9/8/2003 12:45:10 AM
Last Updated: 9/11/2003 4:10:51 PM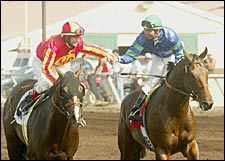 Jockey Patrick Valenzuela, aboard Chester's Choice, right, is congratulated by Julie Krone (Woke Up Dreamin) after the match race Sunday at Del Mar.
Photo: Benoit

Patrick Valenzuela urged everything he could from Chester's Choice, dramatically nipping Julie Krone and Woke Up Dreamin by a nose at the wire in a match race at Del Mar Sunday that exceeded everyone's expectations.Krone had a 2 1/2-length lead in the stretch of the self-styled "Battle of the Sexes," a $30,000 claiming race for the 3-year-old colts competing for a $50,000 purse when Valenzuela angled his charge off the rail. The Summer Mayberry-trained colt figured to have a stamina edge over his rival and it showed up in the final 100 yards. The final time for the 1 1/16 mile was 1:46 1/5."At the sixteenth pole I could hear Pat grunting and pushing. I knew it was going to be close," Krone said. "The crowd was roaring. I was asking my horse for all he had left and he was trying. He was so leg weary, but he was trying. It sure was exciting for the fans."The race pitted the top two riders in the Del Mar jockey standings all season. Valenzuela increased his edge over Krone to 48-46 with more than two days remaining.It was the third Thoroughbred match race in Del Mar's history. The two previous races were won by Seabiscuit (Aug. 12, 1937) and Soviet Problem (Aug. 21,1994). Krone popped the gate to get the early lead with Woke Up Dreamin but Chester's Choice immediately responded at the rail and the two dueled through an opening quarter-mile of :22, the half, :44 2/5 and 1:09 4/5, alternating for the lead often. As they came out of the turn for home, Woke Up Dreamin opened up by a couple of lengths and it appeared Chester's Choice had been done in by ultra-quick splits.But he came back on to get up late in a heart-pounding finish."My main concern was getting my horse to finish," Valenzuela said. "Summer did a marvelous job getting him ready to do this. He'd been going long and today he had to run six furlongs in 1:09 and then keep right on going. I thought he would have more stamina today. He was game, too. I had to work real hard that last part to get there, but I was fit enough for it, too. Julie has been the golden girl here this summer. She won on Candy Ride (in the Pacific Classic) and she's shown everyone she's a tremendous rider." "Turning for home I threw a cross on him and thought I might get there," Krone said. "But they got us. That was some race."Mayberry called it "the most exciting win I've had in my career." She said Chester's Choice is not used to vying for the lead."He's very game and he has a big heart and he tries hard all the time," Mayberry said. "I thought we were going to be second there for awhile, but he ran great. I think Chester gets a well-deserved vacation now." Chester's Choice, a Kentucky-bred bay son of Afternoon Deelites owned by Robert Rupert, earned $35,000 for the win, his second in 11 career starts, to push his career bankroll to $105,180. The Kentucky bred was purchased for $120,000 in the Keeneland September 2001 sale.Mike Pegram's Woke Up Dreamin is trained by Bob Baffert.Chester's Choice paid $3.60 at odds of 4-5. Woke Up Dreamin was favored at 1-2.(Chart, Equibase)



Copyright © 2015 The Blood-Horse, Inc. All Rights Reserved.