Keeneland September Sale Opens Monday With Select Yearlings
by Deirdre B. Biles
Date Posted: 9/5/2003 4:52:56 PM
Last Updated: 9/8/2003 10:16:36 AM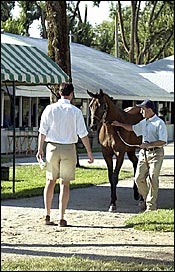 Prospective buyers inspect Keeneland sale yearlings.
Photo: Anne M. Eberhardt

The top of the yearling market faces its biggest test of the year when Keeneland's September sale gets under way Monday in Kentucky. The two select sessions that open the auction will feature yearlings by such outstanding sires as Storm Cat, Danzig, A.P. Indy, and Seattle Slew along with the members of the last crop sired by Unbridled, who was euthanized in 2001.Because the Keeneland July sale was cancelled this year, Fasig-Tipton's Saratoga select sale is the only measure, so far, of the demand for the very best stock. Based on its results, buyers are eager to acquire such horses. Saratoga's gross revenue and median price both were up more than 30% from a year ago while the average price grew 24.5%. The number of horses sold for individual prices of $1 million or more rose from two last year to five this year."I think it will be difficult to buy the kind of yearling that we will be looking for," said Ric Waldman, an adviser to W.T. Young of Overbrook Farm. "There will be a good, healthy demand and not an abundance of yearlings with top physicals and the type of pedigree that we get excited about."There's every indication that the market will be strong. The stock market has picked up a little bit, the confidence level (in the economy) is up, and people aren't as distracted by non-economic occurrences in the world."Consignor Craig Bandoroff of Denali Stud is also optimistic."I'm anticipating a good market for good horses," he said. "Saratoga was very encouraging."However, Bandoroff added, "there is a concern at the top of the market because there are not a lot of buyers, but there are a lot of horses. You have to hope that new buyers will come in and play at the top. But that's asking a lot, because these are expensive horses."As for the rest of the sale," he continued, "it will take care of itself. I'm very hopeful that the new tax laws (which provide benefits for buyers who spend up to $400,000 for horses in a year) will be beneficial. They are a big incentive for people to buy."Bandoroff has several horses that could rank among the highest sellers in Keeneland's select sessions. They include a strapping son of Unbridled out of the champion Serena's Song (by Rahy). Bred by Robert and Beverly Lewis, he is a half-brother to English group I winner Sophisticat (by Storm Cat), stakes winner Serena's Tune (by Mr. Prospector), and Grand Reward (by Storm Cat), who finished third in this year's Scottish Equitable Gimcrack Stakes (Eng-II). Sophisticat sold for $3.4 million at the 2000 Keeneland July yearling sale, and Serena's Tune brought $1 million in 1999 at Keeneland in July."This colt looks the part," Bandoroff said. "He's an Unbridled with Serena's Song's quality. He's a big, scopey horse, and he covers a lot of ground. I like to say that all he's missing is the roses on his withers. It's hard to imagine that he won't be with the leaders (in price), if not the leader."Another standout in Bandoroff's barn is a bay Storm Cat colt out of the stakes-placed Exceller mare Exing, who was bred in Chile. He is a half-brother to Chliean group I winners Mash One (by Mashkour) and Exhortada (by Cresta Rider) along with Chilean group II winners Reciclada (by Rictorious) and Gran Mujer (by Single Dawn)."He's a very nice colt," Bandoroff said. "I would like for him to be a little bigger, but he is very correct for a Storm Cat. He looks like he will come to hand early."Bandoroff also likes the looks of two Kingmambo colts. One is out of stakes winner Storm Beauty (by Storm Cat) and from the family of champion Gold Beauty. He is a half-brother to Renaissance Lady (by A.P. Indy), who was second in the Debutante Stakes (gr. III). The other, named King of the Sun, is the first foal out of stakes winner Solar Bound (by Boundary).Said Bandoroff of the Kingmambo -- Storm Beauty colt: "He's out of a Storm Cat mare, so he's got a little bit of Storm Cat's knees. He looks like he will be precocious."King of the Sun is "correct and has real beautiful movement. He's a pretty walker; he covers a lot of ground."As the start of the auction approached, Keeneland's director of sales, Geoffrey Russell, was upbeat."First and foremost, we have a quantity of quality," he said in a press release that was issued by Keeneland Friday. "Also, the new tax law changes coupled with the upswing in the economy should make this sale very inviting to buyers. This year's crop of freshmen sires offers the strongest combination of both pedigree and race performance in recent memory."The September sale, which is the largest of its kind in the world, has 4,294 horses in its catalogue and runs through Sept. 20. There will be a break from selling on Sept. 12 following the first four sessions. Each session begins at 10 a.m. (EDT).



Copyright © 2015 The Blood-Horse, Inc. All Rights Reserved.