Spa-Tacular
by Ray Paulick
Date Posted: 9/3/2003 9:32:39 AM
Last Updated: 9/3/2003 9:45:32 AM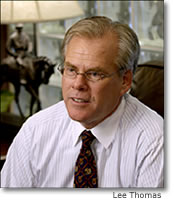 Ray Paulick
Editor-in-Chief


The Saratoga season of 2003 is one New York Racing Association officials will not soon forget, and for good reason. They overcame numerous obstacles to post record numbers at what most people acknowledge is American racing's most important meeting. The most obvious challenge NYRA had to deal with was the weather. For the first three weeks of the 36-day meet, rainstorms played havoc with daily programs, forcing many races off the turf and onto a sloppy main track, resulting in numerous scratches and short fields. Fortunately, weather conditions improved for the second half, helping the meet close with all-time record attendance of 1,049,309 and a record daily average of 29,147. But weather was certainly not the only problem. A scathing report critical of NYRA management was released in June by New York Attorney General Eliot Spitzer, just a month before Saratoga opened. That was followed by word of a federal criminal investigation of NYRA in connection with income tax fraud indictments of some mutuel clerks. That news kicked off an endless stream of leaks from government officials to an Albany, N.Y., newspaper, the Times-Union, leading to a constant barrage of front-page stories critical of various facets of NYRA's operation. Many of the stories were picked up by other newspapers in the region, casting more dark clouds over NYRA operations. Racing fans obviously either took what they read in the papers with a grain of salt, or they didn't care about NYRA's legal woes, as long as the racing association continued to put on a good show. Then there was the Great Blackout of 2003, which didn't affect on-track business but shut down some OTB systems, including those in New York City, for up to two days. The blackout also affected wagering sites in other states, where the Saratoga signal is popular among fans. Travers Day, the highlight of every Saratoga meeting, had the potential to be monumental when it appeared Kentucky Derby (gr. I) and Preakness (gr. I) winner Funny Cide and Belmont Stakes (gr. I) winner Empire Maker would meet in the 134th running of the Travers Stakes (gr. I) Aug. 23. When both horses were scratched from the race, expectations for the day were lowered dramatically. Amazingly, to the credit of both NYRA and racing fans who truly believe the Travers to be the "Midsummer Derby," all-time records were still set for attendance (66,122) and handle ($9.4 million on-track and $40.9 million from all sources). What is particularly impressive about NYRA's ability to generate such huge numbers for the Saratoga meet is that the same management and staff operate racing the other 46 weeks of the year at Belmont Park and Aqueduct. By contrast, management at Del Mar, with a summer meeting just over a week longer than Saratoga's, has the rest of the year to recuperate, analyze, and make plans for the future. NYRA's crew packs up their belongings, moves back downstate, and carries on with the fall meeting at Belmont Park without missing a beat. NYRA's senior management team--headed by board chairman and CEO Barry Schwartz, president Terry Meyocks, and senior vice president Bill Nader--has done an exceptional job, not just for New York, but for the racing industry in general. There is excellent chemistry among them: Schwartz has more understanding of the needs of serious horseplayers than any racetrack executive in America; Meyocks has fostered outstanding relationships with horsemen over the years; and Nader is as knowledgeable about simulcasting as anyone in that field. The report from Attorney General Spitzer, among other things, called for the possible transfer of the racing franchise from NYRA to another organization. Unless there are shocking revelations in the current federal investigation, that is the dumbest thing the state of New York could do.



Copyright © 2015 The Blood-Horse, Inc. All Rights Reserved.