Countdown to the Cup: The Ride of a Lifetime
by Steve Haskin
Date Posted: 8/26/2003 3:37:43 PM
Last Updated: 9/4/2003 2:15:37 PM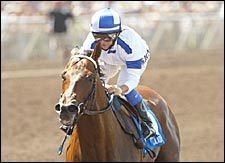 Candy Ride, in "classy and flawless" Pacific Classic victory.
Photo: Benoit

It was a big weekend for the Breeders' Cup Classic - Powered by Dodge (gr. I), as Ten Most Wanted proved in the Travers (gr. I) that the pre-Kentucky Derby (gr. I) hype was justified. But it's going to be a long time before we see a performance as classy and flawless as the one we saw from Candy Ride in the Pacific Classic (gr. I).Class is the only word we can think of to describe Candy Ride, and his new jockey, Julie Krone. How refreshing to see Krone, an ebullient person to say the least, simply rise off the saddle after the race and pull up her mount without any fist pumping, arm raising, victory signs, or the proverbial salute to heaven. Krone saved all her ebullience for the winner's circle where she was able to sing the praises of this extraordinary horse.Candy Ride's trainer, Ron McAnally, and wife Debbie arrived at Del Mar just before the first race, and it was apparent both were suffering from a bad case of butterflies. Ever since McAnally discovered this rare gem in his gold mines in South America, this was the day he dreamed of – to win the Pacific Classic for Sid and Jenny Craig, who have said all along they would rather win this race in front of all their friends than the Kentucky Derby. You could sense how badly the McAnallys wanted this one.America has been inundated with Seabiscuit this year and loving every minute of it. Could this undefeated phenom from South America find his own place in the pages of history and the hearts of racing fans?This is a horse who once competed in a quarter-mile match race on a dirt road north of Buenos Aires, with the only thing assuring that the horses stopped immediately after the race was a wire fence just yards past the finish line.In his three recognized races in South America, Candy Ride coasted to easy victories by 12, eight, and eight lengths, the last two in grade I company going a mile on the turf. After McAnally purchased the son of Ride the Rails for the Craigs, he told them if they ever were going to win the Pacific Classic, this would be he horse to do it. Candy Ride won his U.S. debut at Hollywood by 3 lengths in a swift 1:41 1/5 for the 1 1/16 miles, then returned to the grass winning the 1 1/8-mile American Handicap (gr. IIT) in 1:46 1/5 over Special Ring, who came back to set a new course record for 1 1/8 miles at Del Mar, winning the grade I Eddie Read Handicap in 1:45 4/5.Candy Ride, meanwhile, turned in a series of works unlike anything seen in quite a while. In a two-week period, he worked 7 furlongs in 1:23 3/5, a mile in 1:36 1/5, and a mile in 1:35 2/5. And this followed a 6-furlong work in 1:11. There seemed to be no way to get this horse tired.Now came the big test for Candy Ride – 1 1/4 miles on dirt vs. two top-class Bobby Frankel horses, Medaglia d'Oro, believed by many to be the best horse in the country, and Milwaukee Brew, two-time winner of the Santa Anita Handicap (gr. I). With Gary Stevens out with an injury, McAnally named Krone to ride. Prior to the race, Stevens filled Krone in on Candy Ride, just as his movie character, George Woolf, was filled in on Seabiscuit by the horse's regular rider, Red Pollard.The story of the Pacific Classic was pretty simple. All Candy Ride managed to do was run the fastest 1 1/4 miles in the history of Del Mar, beating Medaglia d'Oro by 3 1/2 lengths after an eyeball-to-eyeball battle. Candy Ride's fractions were awesome -- :23 2/5, :23 2/5, :24, :23 4/5 and :24 2/5. When Krone and Jerry Bailey, on Medaglia d'Oro, turned on the heat, they made Milwaukee Brew and the overmatched Fleetstreet Dancer look as if they were going in reverse. Milwaukee Brew came out of the race with an ankle injury, ending his chances for the Classic.What also was impressive was the way Candy Ride relaxed right off Medaglia d'Oro, then cut the corner turning for home, moving like a cat about to pounce on its prey. He was always in command, was never urged other than some waves of the whip by Krone, and threw his ears up nearing the finish line like many good horses do when they know their work is over. Despite the record time, Candy Ride was hardly blowing coming back. The next morning in his stall, he was bright-eyed and feeling strong, exuding good energy. When groom Ricardo Contreras came over and demonstrated how the horse likes to be stroked under his chin, Candy Ride reached out and tried to bite him. It seemed apparent the race had taken very little out of him.So, just what are we dealing with, and will the Craigs shell out $800,000 to run Candy Ride in the Breeders' Cup Classic? Sid Craig has said there was a good possibility they would if Candy Ride won the Pacific Classic. It certainly would be a shame should Candy Ride not be in the starting gate on Oct. 25, and it would again expose the flawed nomination system for South American horses, most of whom are forced to remain in the barn on racing's biggest day because of outlandish supplementary fees. But the Craigs have been waiting all their lives for a horse like this. Most of the fee has already been paid for by Candy Ride, so let's hope they give the horse a chance to prove that he is indeed the wonder horse many perceive him to be. This horse appears to have no flaws and simply may be in a class by himself, despite one of the deepest and most talented crop of older horses seen in a long time.Medaglia d'Oro ran his race, but it was a lot asking him to ship to Del Mar three weeks after coming back from a layoff. He looked super and ran his usual hard race, but 1 1/4 miles hasn't been his best distance. He'll bounce back and will be tough no matter what the distance.Turning to the Travers, it was fortunate the field was so strong despite the defections of Empire Maker and Funny Cide. Having Wally Dollase win with Ten Most Wanted after winning the race with the colt's sire in 1997 was one of the great stories of the year.The race could not have been scripted better for Ten Most Wanted, as Peace Rules and Strong Hope, the two horses to beat, drove each other into the ground with a head-to-head battle through 6 furlongs in 1:09 4/5. That set it up perfectly for Ten Most Wanted to pick up the pieces, which he did under Pat Day, winning off by 4 1/2 lengths. With a final half run in a dawdling :52 1/5 and final quarter in :26 3/5, it was obvious why Ten Most Wanted, runner-up in the Belmont Stakes, had things his own way down the stretch.Credit must be given to Peace Rules, who put Strong Hope away and still was able to battle back and make it tough on Ten Most Wanted, at least until he finally gave way inside the eighth pole. He finished 10 lengths ahead of Strong Hope, who held on for third. Although the final fractions were slow, Ten Most Wanted is a big, strong, grand-looking colt who should continue to improve and excel at 1 1/4 miles. At this point, however, the 3-year-olds are going to have improve dramatically to be able to compete with the top older horses.With Mineshaft going in the Woodward (gr. I) and Congaree heading for the Kentucky Cup Classic (gr. II), we still have some tremendous horses to look forward to. And Empire Maker should be fresh and sharp for the Jockey Club Gold Cup (gr. I). Whether Funny Cide will race again this year is anybody's guess. The hard-knocking and honest Tenpins continued his winning ways in the Philip H. Iselin (gr. III) at Monmouth Saturday, but he also still has to prove he can handle the big guns. Then you've got Evening Attire, who is getting good again; Volponi, who has been running hard and consistent all year, but hasn't gotten lucky yet; and the improving Puzzlement and Iron Deputy. And let's not forget about Dubai Wold Cup winner Moon Ballad, whose last start in the Sussex Stakes was much better than it looked on paper, as he was very wide, but still closed strongly to be beaten less than a length in a five-horse blanket finish.



Copyright © 2015 The Blood-Horse, Inc. All Rights Reserved.