Pacific Princess
by Ray Paulick
Date Posted: 8/26/2003 2:35:29 PM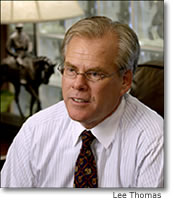 Ray Paulick
Editor-in-Chief


One of the best stories of the 2003 racing season is the comeback of jockey Julie Krone, who subbed for the injured Gary Stevens aboard Candy Ride to win the Pacific Classic (gr. I) at Del Mar on Aug. 24. The victory was the first in a million-dollar race by a female jockey, one of many firsts the 40-year-old jockey has compiled in her career. Among them: * First female to win a riding title at a major race meeting. She won the Monmouth Park title in 1987 with 130 victories. Krone nearly won the 1991 riding title at Saratoga, falling one win shy of Mike Smith. * First female to win a Triple Crown race. She rode Colonial Affair to victory in the 1993 Belmont Stakes (gr. I). * First female rider in the National Museum of Racing and Hall of Fame. She was inducted in 2000. * First female to win a grade I race in California. She won the 2002 Malibu Stakes with Debonair Joe. Krone graced the cover of Sports Illustrated May 22, 1989 (the last time racing was featured on the magazine's cover), and she was voted ESPN's female athlete of the year in 1993. She is, to the outside world, one of racing's most recognizable faces. A role model to many female riders now trying to make it in a racing world dominated by men, Krone is an inspiration to countless horse-loving girls and young women whose dream of becoming a jockey no longer seems so far-fetched. This isn't Krone's first comeback. She retired "for good" in 1999, citing ankles and knees so sore she said she couldn't wait to quit. A move to the West Coast and marriage to Daily Racing Form executive columnist Jay Hovdey lit the fires again, however, and she returned to the saddle last November. Of all North American racing jurisdictions, Southern California had become the last frontier for female riders. Krone quickly broke down the barriers that had prevented other women from succeeding. She was riding high--fifth in the Santa Anita jockeys' standings--when she tumbled to the ground at the start of a race on March 8. Diagnosed with fractured vertebrae, she was sent to the sidelines indefinitely. Krone talked of a late summer comeback, but the only thing I thought she'd be riding in Del Mar was a surfboard. Was I ever wrong. Her Del Mar comeback began with a victory in one division of the opening day Oceanside Stakes. By week's end, she was atop the jockeys' standings. One month later, Krone is still fighting for the leading rider title, trailing only Pat Valenzuela by number of winners. When Gary Stevens was injured in the freak mishap involving Storming Home in the Arlington Million (gr. IT), owners Sid and Jenny Craig and trainer Ron McAnally had a big decision to make in finding a replacement aboard the unbeaten Candy Ride. The Southern California jockey colony has had a huge void since the retirements of Hall of Famers Laffit Pincay Jr., Chris McCarron, and Eddie Delahoussaye, but there was plenty of talent available to ride the Argentine colt, including Valenzuela, Mike Smith, David Flores, Kent Desormeaux, and Victor Espinoza. McAnally and Hovdey have a friendship that goes back to the days of John Henry, but business is business. Krone lobbied for and earned the mount on her own merit, then went out and gave Candy Ride a picture-perfect ride (thanks in part to advice from Stevens, a scenario eerily similar to the Seabiscuit movie, when an injured Red Pollard gave advice to George Woolf [played by Stevens] on how to ride Seabiscuit in his match race against War Admiral). If she comes on strong and wins the Del Mar riding title, Krone's return to the saddle will be the undisputed comeback story of the year. Hollywood wouldn't have been able to script a better one.



Copyright © 2015 The Blood-Horse, Inc. All Rights Reserved.