Funny Cide Among Eight Entered For Travers
by Steve Haskin
Date Posted: 8/20/2003 12:39:31 PM
Last Updated: 8/21/2003 2:12:49 PM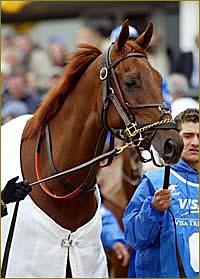 Funny Cide, one of eight entered in Travers Stakes.
Photo: Barbara D. Livingston

A field of eight passed the entry box Wednesday morning for the $1 million Travers Stakes. How many will run is another story. The big news was Funny Cide entering after two weeks of "doubtfuls" and "highly unlikelys," from trainer Barclay Tagg.The other big story was Bobby Frankel entering both Empire Maker and Peace Rules, although only one will run. Unless something happens to Empire Maker, Peace Rules will run in the Sept. 1 Pennsylvania Derby. Although many were surprised to see Funny Cide show up in the entries, they shouldn't have been.After all, can't you just see it? Funny Cide charging down the stretch in isolated splendor. The Spa's old wooden foundation shaking like trees in a hurricane. The deafening roar from the record throng, many of whom are upstate New Yorkers and good standing members of "Funny's Fraternity of Fanatic Followers." Their thunderous ovation engulfs Saratoga, creating the most noise heard in the old town since General Burgoyne's cannons rocked the place in 1777.And how about the swarm of Sackatogians that will be buzzing around the track on race day? They'll be in all their glory as they watch Funny Cide beer bottles being popped open around the track all afternoonCan't you see it? Can't you feel it? Funny Cide had to enter, just as Funny Cide has to run. It's in the stars. Spotlights are already beaming down on Saratoga from the peaks of the Adirondacks. And this is a horse who is coming off two well-beaten third-place finishes. If he had won his last two, or even his last, the only way you'd be able to get to the Spa is by parachute.OK, enough of the ethereal aspect of the Travers. Now for reality. If Empire Maker, who drew post 5, runs, he will be the favorite (he and Peace Rules were made the morning line choice at 8-5). With Jerry Bailey employing different tactics than the ones he used in the Jim Dandy Stakes, the Belmont winner should be hounding Strong Hope much earlier this time. Bailey also is named on Peace Rules, just in case it is Empire Maker who for some reason defects.Congrats, whom trainer Shug McGaughey has said all along likely would not run, was entered and drew the rail, followed in post position order by Strong Hope (John Velazquez), Peace Rules, Ten Most Wanted (Pat Day), Empire Maker, Wild and Wicked (Shane Sellers), Funny Cide (Jose Santos), and Sky Mesa (Edgar Prado). Mike Luzzi will be aboard Congrats if he runs.Tagg's main concern regarding Funny Cide is the fact that the Kentucky Derby and Preakness winner is coming off a dull performance in the Haskell Invitational; he contracted a fever of 102 the next day; has had an iffy blood count since then; and has had only one half-mile breeze in the past three weeks. But that half-mile breeze concluded with a 1:13 gallop-out, which was only three-fifths slower than Empire Maker's 6-furlong work several days earlier. It would appear that Funny Cide's work was closer to 5, or even, 6 furlongs than it was to 4 furlongs.Funny's Cide's presence in the entries by no means assures the gelding will run. But the longer he remains in the field, the more likely he will be in the starting gate on Saturday. By entering it also means that thousands of additional fans will begin making definitive plans to head to Saratoga in the hope of seeing Funny Cide compete. Right now, it is his name that is helping sell the race, and everyone at the New York Racing Association is hoping that name will remain on people's lips for as long as possible.Each morning has been an adventure for turf writers, as they flock to Tagg's barn at 11 a.m. on the dot to hear basically the same news they heard the day before and the day before that. But despite Tagg's insistence that Funny Cide was "highly unlikely" for the Travers, the gelding was entered and announced 75% certain to run. Although Tagg says he has not been under any pressure from Sackatoga Stable or NYRA to run Funny Cide, he has to feel some pressure, considering the enormous popularity of the horse. One thing is for sure, Tagg is not one to run any horse unless he feels he has a big chance to win.So, it looks as though Frankel will get his chance to inflict the coup de grace on Funny Cide in his attempt to wrest the top spot in the 3-year-old division away from the Derby and Preakness winner. But there are also Strong Hope, Sky Mesa, and Ten Most Wanted who are looking to pave the ground for a fall campaign that is designed to strike a late-season blow to Funny Cide and Empire Maker.On paper, the Travers is a wide-open affair, with any one of the starters having a legitimate shot to win, or at least run a big race. There will be no major shocks this year. To show how competitive this field is, after the Frankel entry, you have Funny Cide at 3-1, Strong Hope and Sky Mesa at 4-1, and Ten Most Wanted at 6-1. Even 15-1 Congrats, a fast-closing third in the Jim Dandy; and 20-1 Wild and Wicked, winner of the Ohio Derby and fourth in the Haskell, are no pushovers.Strong Hope, once again will be the speed in the race. Empire Maker, as we said, will be closer to the pace, and you can bet Tagg is going to tell Santos not to fight Funny Cide this time and let him have his head early. With Sky Mesa's natural stalking speed, there should be a good deal of jockeying near the lead, which will make tactics very important. If the pace heats up and the battle lines are drawn early, the possible benefactors will be Belmont Stakes runner-up Ten Most Wanted and Congrats, both of whom like to do their best running late, and both of whom will be equipped with blinkers. Wild and Wicked will race on Lasix for the first time. As we alluded to earlier, if Funny Cide should survive all the obstacles he'll be facing and manages to win the Travers, the tremors felt at Saratoga will be strong enough to create some small tidal waves up in Lake George.The complete Travers field:1-- Congrats (Mike Luzzi, 15-1)
2-- Strong Hope (John Velazquez, 4-1)
3A-- Peace Rules (Jerry Bailey, 8-5)
4-- Ten Most Wanted (Pat Day, 6-1)
5A-- Empire Maker (Jerry Bailey, 8-5)
6-- Wild and Wicked (Shane Sellers, 20-1)
7-- Funny Cide (Jose Santos, 3-1)
8-- Sky Mesa (Edgar Prado, 4-1)Post time 6:25 p.m. (EDT)



Copyright © 2015 The Blood-Horse, Inc. All Rights Reserved.