Sulamani Awarded Arlington Million; Storming Home Disqualified
by Blood-Horse Staff
Date Posted: 8/17/2003 1:40:10 PM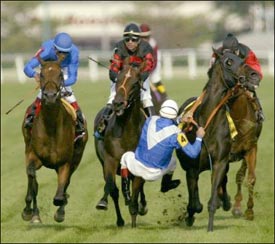 Gary Stevens (4) falls from Storming Home as David Flores aboard Sulamani, far left, and R.R. Douglas aboard Kaieteur, center, try to avoid a collision after crossing the finish line of the Arlington Million.
Photo: AP/Brian Kersey

In the most controversial Arlington Million (gr. IT) ever, stewards awarded victory to Godolphin Racing's Sulamani after determining that winner Storming Home interfered at the finish with two horses behind him when he spooked badly just before the wire and unseated his rider, Gary Stevens.Stevens, who appeared to be struck by two horses after hitting the ground, was placed in a neck brace and taken from the course on a stretcher. He was reportedly taken to Northwest Community Hospital complaining of shoulder pain, but was conscious and moving. Arlington Park Racetrack Chaplain Dennis Nelson, who was with jockey Gary Stevens in the emergency room Saturday evening, reported, "Gary is conscious and talking.  He has been give a shot (painkiller) and had X-rays taken of his left shoulder, which he said was stepped on." The results of the X-rays had not been determined as of 6:30 p.m. Central time. Sulamani, who was closing furiously on the outside with David Flores riding, was a half-length behind Storming Home at the finish. Paolini and jockey Andreas Suborics, and Kaieteur, with Rene Douglas aboard, finished in a dead heat a head behind Sulamani and were placed second. It was just a neck back to the fifth-place finisher, Perfect Soul. Storming Home was placed fourth. The final time for the 1 1/4-mile Arlington Million XXI was 2:02 1/5 on a good turf course."I was told to put him in the race, save ground and make a run the last half mile," Flores said. "I had to go around and circle the field. He came very well at the end. He performed really, really well and I got beat right there. What happened with the other horse (Storming Home, first through the line but placed 4th) had nothing to do with me. I just got lucky to get put up." Godolphin won its 100th grade or group I race. The announcement of the disqualification was greeted by boos among many of the Arlington patrons. "Having won 100 group I races on three different continents, in 11 countries over 10 years has been quite an accomplishment by Godolphin stable," said Simon Crisford, Godolphin's racing manager. "However, we would have much preferred not to have won in this manner. It was a shame that Storming Home could not keep the victory." Arlington Park released a statement from Illinois stewards."We viewed the replay to determine if there had been interference and after determining that there had been, we viewed the replay again to determine if the interference had occurred prior to the finish of the race," senior Illinois steward Edward Arroyo said. "We determined that the incident had occurred about 20-25 feet prior to the finish; therefore we disqualified the winner and placed him fourth for interference to both Paolini and Kaieteur, who dead heated for third." The finish nullified a tremendous effort by the Neil Drysdale-trained Storming Home, who was 12th in the field of 13 before working his way into contention at the start of the final turn. Storming Home got the lead in the stretch on the outside from Perfect Soul and The Tin Man and was clear by about 1 1/2 lengths close to home. Irish-bred Sulamani was flying late seven paths wide and apparently headed for a narrow runner-up finish. But the 2-1 favorite suddenly jerked to his right a few strides from the wire and dislodged Stevens, who lost his balance while clinging desperately to the horse's neck several yards past the finish. After falling, he appeared to be struck by the legs of both Sulamani and Kaiteur.Douglas, though, thought he missed hitting Stevens."(Storming Home) spooked from something. I only missed him by inches. It was very lucky that I was able to avoid him." Of the objection, Douglas said, "It wasn't his (Stevens and Storming Home's) fault but it cost me. He definitely bothered me. I had to do something. It was a million dollar race." Suborics, aboard Paolini, had similar reactions."I had a beautiful run on the back(stretch) and I had good position on the turn to the straight," he said. "I was still in second the last 20 yards before the winner came over and I think it cost me the second place." "The horse (Storming Home) is fine," said Drysdale, who was reached by cell phone at the airport. "When he came back he wasn't even blowing. I didn't see a replay so I don't really know what happened. It looked like he ducked out from something, but as for why – who's to know? "I didn't see the rerun because I was more concerned about Gary (jockey Stevens) and trying to get to him. I know my horse won the race, but like I said, I didn't see the replay so I can't even comment on the disqualification." The Irish-bred Sulamani, a 4-year-old colt by Hernando trained by Saaed bin Suroor, won for the sixth time in 10 starts. He also has group I wins in the French Derby last year and the Dubai Sheema Classic in March. He was second in his last start, the 12-furlong King George VI & Queen Elizabeth Stakes (Eng-I) at Ascot July 26."We dropped the distance but thought that this race would suit him," said Suroor. "The last two furlongs, he was close enough and when the jockey asked him, he flew like he always does in Europe." The winner won $600,000 to improve his career earning to nearly $3.1 million.The 5-2 second choice, Sulamani paid $7.60, $5.20 and $4.40. Paolini returned $7.20 and $9.40. Kaieteur paid $12 and $13. The $2 exacta was worth $53.(Chart, Equibase)



Copyright © 2015 The Blood-Horse, Inc. All Rights Reserved.