Giuliani to Round Table: 'Way to Expand Sport is to Improve Business'
by Tom LaMarra
Date Posted: 8/17/2003 3:12:04 PM
Last Updated: 8/18/2003 10:48:13 AM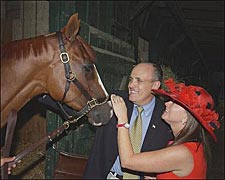 Rudy and Judith Giuliani visit New York Rudy, a horse named for the former NYC mayor who now heads up betting task force.
Photo: AP/NYRA Adam Coglianese

Former New York City Mayor Rudy Giuliani told The Jockey Club Round Table Sunday that the "way in which to preserve and expand horse racing as a sport is to improve its business."Guiliani's remarks came as part of his report on security within the wagering function of North American horse racing.Giuliani, hired by the National Thoroughbred Racing Association to study wagering security and recommend improvements following the Breeders' Cup Ultra Pick 6 fraud of 2002, said the industry reponse was was effective, but indicated the process is ongoing, and in fact may have just begun."What happened with the Breeders' Cup Pick 6 was isolated conduct but not unusual conduct," Guiliani said. "This is what's going on in America today in regard to electronic commerce. This is the price we pay for quick transactions."A report by Guiliani Partners and the NTRA Wagering Technology Working Group was officially released at the Round Table. As expected, it calls for formation of a national office to monitor wagering security and uniform standards for all pari-mutuel entities. A National Office of Wagering Security, along with model rules, should be in place the first six months of 2004, the report said.Also addressing the security issue was Jockey Club president Alan Marzelli, who equated the problem with that faced by the industry when Equibase Inc. was started as a subsidiary of The Jockey Club. "It's the same question that was asked 14 years ago when we said this industry needs to manage its own database," Marzelli said. "We don't have all the answers but I can tell you we kknow what needs to be done."Marzelli said that the Louisville, Ky. firm of Russell Reynolds will advise the industry on the security and wagering matter. He noted that the TJC subsidiary InCompass had tied together the databases at North American racetracks and the same is possible with the tote and wagering systems.The Guiliani report is titled "Improving Security in the Pari-Mutuel Wagering System.""The additional security measures put into place after the Pick 6 incident -- particularly the scanning software for multi-race wagers -- have been effective means for improving wagering security and providing deterrence against similar types of computer crime," the Guiliani report says. "The process of security development, however, is just that: a process. The industry must continue to develop strategies and programs that will enable it to identify and rebuff other attempts at wagering fraud."The national office proposed by Giuliani was first suggested during the Albany Law School conference in early August in Saratoga Springs, N.Y., where the Round Table is held. The national office would form uniform, minimum standards for tote and wagering-service providers in consultation with industry and regulatory agencies, have oversight of audits of pari-mutuel entities, monitor central databases, share information on best practices, and receive and respond to inquiries about wagering irregularities.A funding mechanism for the national office must be developed, and a chief security officer with "cyber-security expertise" hired. The report also calls for a centralized "consumer ombudsman" program to address consumer and industry queries regarding wagering security or perceived security lapses.The report contains a summary explanation of the tote system, which it says consists of a network of computers and wagering terminals linked by modems and a frame-relay system that electronically combines wagers into pools. The current tote system, the report says, operates on the Inter-Tote System Protocol, which has been adapted over the last decade from its original use in intratrack, intratote wagering on live races at individual facilities to support extensive intertrack, interstate, and intertote wagering on simulcasts. The report says ITSP has two main functions: translation of wagering data into uniform computer language, and data transportation. It supports a summation of bets per wagering combination on a per-pool, per-race basis and enables post-event analysis of wagering data. However, the report says, records must be retrieved manually from backup tapes, when the system is in a non-wagering mode, for data to be examined. It does not enable the transfer of the wagers themselves to the host site or the combination of actual data across systems, which would aid in the real-time detection of wagering irregularities.The report contains an interesting, if not eye-opening, comparison: The ITSP system functions on bandwidth that sustains data transmission speeds ranging from 2,400 to 19,100 bits per second (2.4Kbps to 19.1Kbps), with 9,600 bits per second (9.6Kbps) considered average. In contrast, available telecommunications technology supports "slow" speeds of 128,000 bits per second (128Kbps) and rapid transmission at a rate of 45 million bits per second (45Mbps).Those numbers alone suggest there is serious work to be done. Giuliani Partners, in the report, suggests the industry identify and recommend changes to the current ITSP-based infrastructure, identify potential technology solution providers, and formulate a business model to support an "improved, scalable technology platform, a phase-in program for new technologies," and develop a centralized database of wagering information.A review of tickets continues. The report says the Working Technology Wagering Group looked at wagers with payoffs of at least $10,000 that were placed on California and New York races. Those races accounted for 82% of the pick sixes and 36% of the pick fours. Final results of the review are expected in the fall of 2003.To date, 68% of the pick four and pick six tickets from California and New York have been reviewed. The report says "no evidence of prior manipulation or fraud in connection with pick four or pick six wagering beyond those incidents already known" was discovered.The Aug. 17 Round Table also featured reports by Jockey Club officials.



Copyright © 2015 The Blood-Horse, Inc. All Rights Reserved.