Saratoga Notebook: No Budging Tagg; Wild and Wicked in Travers; Sackatoga Breaks Maiden; Mud Delays Sky Mesa
Date Posted: 8/14/2003 8:49:33 PM
Last Updated: 8/18/2003 8:09:54 AM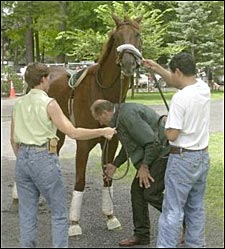 Funny Cide being tended to by assistant trainer Robin Smullins, left, trainer Barclay Tagg, and groom Santos Cardoza, right.
Photo: AP/Tim Roske

By Mike Kane
Sackatoga Stable's Funny Cide was worked on by a chiropractor Thursday morning and his status for the Travers (gr.I) remains in question.Trainer Barclay Tagg did not breeze the Kentucky Derby (gr.I) and Preakness (gr.I) winner on the wet track Thursday and said that on the advice of the equine chiropractor he would likely only jog the New York-bred gelding again Friday morning. Tagg did not say what physical problem the Kentucky-based chiropractor was dealing with and would not provide the practitioner's name. Funny Cide had a temperature of 102 on Aug. 4, the morning after he finished third in the Haskell Invitational (gr. I). On Wednesday, Tagg said he didn't like the results of the horse's most recent blood test. Another blood test will be done Friday.After being schooled on the paddock grounds Wednesday as part of the Funny Cide Day festivities at Saratoga Race Course, Tagg said Funny Cide "didn't eat his supper like I would have liked him to."So Tagg is maintaining his cautious handling of the horse. "I'm not trying to split hairs here," Tagg said. "Nobody would like to run him in the Travers more than I would, but if his blood is not 100 percent and he's not eating 100 percent, if he hasn't gotten his works in because of the weather or whatever, I'm not going to run him.

"I've got plenty of time with this horse. I've got years and years and years. I can't breed him. I'd love to run in the Travers. I don't get many chances to run in the Travers. He's a lovely horse and he's the one that should run there, but if he's not 100 percent, I'm not going to run him.""There are three criteria for that, at least. One of them is eating and one of them is blood. The other is whether I get the works in him or not."Tagg said he'll continue decide what to with Funny Cide each morning after he has been examined. Still, Tagg did not rule out a work in the next few days. "I would like to do it this weekend if I was going to do it," Tagg said. "I don't know if I'll do it or not. We'll see what the next blood test shows."Wild and Wicked Travers Bound
Ohio Derby (gr.II) winner Wild and Wicked worked four furlongs in :48.22 on Saratoga's main track Thursday in preparation for a start in the Travers.

Afterward, trainer Ken McPeek said he had changed his plans to send Wild and Wicked to the Pennsylvania Derby (gr.II) on Sept. 1 after learning that Peace Rules was headed to that race because the purse was being raised from $500,000 to $750,000.

Wild and Wicked, owned by Mr. and Mrs. David Randal, finished fourth in the Haskell Invitational, 10 lengths behind Peace Rules.

"When I heard that Peace Rules was going to Pennsylvania, I told the owner `I think I'd really rather run here,'" McPeek said. "It's up to me."

Wild and Wicked had won the first three starts of his career before the Haskell.

"I think the last race was a throw out," McPeek said. "He just didn't run his race. He's a good horse. He seems to love this racetrack. We don't have to ship.

"We think for whatever reason he may have been a little dull from the ship down or the heat, but he wasn't himself."

McPeek said that Wild and Wicked runs with Lasix for the first time in the Travers.

"That could be significant," McPeek said. "And he's doing well."

McPeek smiled at a question about what he thought Wild and Wicked's presence in the Travers might mean."I don't think anybody would even notice or care," McPeek said. " But they didn't notice or care about Sarava either, did they?"The McPeek-trained Sarava won the 2002 Belmont Stakes at 70-1, the highest odds for a winner in race history.McPeek said he might be to blame for Wild and Wicked's performance in the Haskell."I had about six weeks between the Ohio Derby and the Haskell and I may have been a little soft on him," McPeek said. "I didn't ever really work him in company, he had been working so fast by himself anyway. I may have left him a little bit short for the race."Looking at a lot of different things, I think he deserves another chance."McPeek said that Deb's Charm, a three-length maiden winner Saturday in her second career race, will run in the Spinaway (gr.I) on Aug. 29. Deb's Charm was third in her debut on July 6 at Churchill Downs."She should have won first time out. She just walked out of the gate," McPeek said. "She's got a world of talent. She should have won by five that day, but she's had a history of being a little tempermental.

"She's got a streak in her that she sometimes plays tricks with us, but she's incredibly fast.

"We were third in the Spinaway last year with a filly named Midnight Cry who we were very fond of. This is a much better filly than Midnight Cry."Sackatoga Breaks Into Saratoga Win Column
Saratoga Episode gave the Sackatoga Stable partners, owners of Funny Cide, their first victory at Saratoga Race Course Thursday when he won the fourth race by 1 1/2 length.Seven of the 10 Sackatoga partners and members of their family celebrated in the winner's circle after the race for 2-year-old New York-bred maidens was made official. Sackatoga Stable managing partner Jack Knowlton, of Saratoga Springs, estimated that the stable had between 12 and 15 other starters at the track since the stable was formed in 1995.

"It's a long time coming," Knowlton said. "I now can't say that we won the Derby and the Preakness, but never won a race at Saratoga. That cute line that I've been using for a while is out. We're real happy. He raced super."Trained by Tagg, who also handles Funny Cide, Saratoga Episode finished second in his career debut on July 25 at Saratoga. Sackatoga Stable purchased the Wheaton colt for $60,000 in a private sale during the spring.

"We thought he was going to be a nice horse," Knowlton said. "It's the same connections that we bought Funny Cide from. Tony Everard pinhooked him and we bought him down there in Florida. I talked with Tony before we got the horse and he really liked the horse. He thought he was going to be a nice useful horse.

"For a Wheaton, we paid more money than we typically do, but when Tony says, `I think I've got a nice horse...' After he told us the same thing he told us about Funny Cide, you've got to listen to him.

"I liked his first race about three weeks ago. He really rolled down the stretch. He came back today and showed that he is a pretty nice horse. We're real excited."Sky Mesa Work Delayed Again
Sky Mesa's workout for the Travers (gr.I) was delayed again Thursday morning because the tracks were still muddy from the heavy rain that fell in Saratoga Springs during the day on Wednesday.

Donna Ward, who manages the Pulpit colt for her husband, trainer John Ward, said Sky Mesa might breeze Friday morning. Sky Mesa's last start was a second-place finish in the Haskell Invitational (gr.I) on Aug. 3.

"I was only going to get one work into him regardless of the weather," Donna Ward said. "I've got plenty of time to work. As long as he works by Saturday, I feel fine."

Sky Mesa walked under tack Thursday."He's galloped hard for a couple of days, so we just kind of gave him a little bit of a break because he'll work (Friday). He's galloped two miles the last couple of days.Sky Mesa missed the Triple Crown series with a heel bruise. The Haskell was his second start of the season.

"He came out really well, really well," she said. "At this point, I don't feel like I'm playing catch-up."Frankel Stacks Travers Day Line-Up
Trainer Bobby Frankel said Thursday he expects to have starters in all four of the stakes on Travers Day, Aug. 23.Belmont Stakes (gr.I) winner Empire Maker is likely to be the favorite in Saratoga's $1 million marquee race. Frankel's other stakes candidates are Ghostzapper in the Kin



Copyright © 2015 The Blood-Horse, Inc. All Rights Reserved.