Speed and Heart Give Soto West Virginia Derby Win
by Tom LaMarra
Date Posted: 8/10/2003 4:06:04 PM
Last Updated: 8/11/2003 2:14:51 PM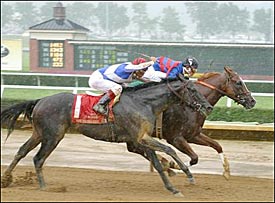 Soto, rear, charges to the finish against Dynever to win the West Virginia Derby.
Photo: AP/Mtnr Race Track, Charles P. Saus

Displaying amazing grit and determination in only his second start back from a more than seven-month layoff, Baron George Von Ullman's Soto fought back after a stretch-long duel with Dynever to win the $600,000 West Virginia Derby at Mountaineer Race Track & Gaming Resort on Aug. 9.Soto, trained by Michael Dickinson and ridden by Ramon Dominguez, sat in second behind Cat Singer early in the 1 1/8-mile, grade III stakes for 3-year-olds, took the lead and opened up a length after six furlongs, then hooked up with Dynever near the top of the stretch. Dynever, who ranged up on the outside, put his head in front in midstretch but couldn't contain Soto, who fought back to win by a neck.The time of 1:46.29 shattered the track record set by Western Pride in the 2001 West Virginia Derby by a full second. Colita, who raced in seventh early, rallied to finish 5 ¼ lengths behind Dynever in third. Supah Blitz rallied from last in the nine-horse field to finish fourth.The fractions on a fast track were :22.66 for the quarter, :45.45 for the half, 1:10.80 for six furlongs, and 1:34.60 for a mile. Soto ran his final eighth of a mile in a sharp :11.69."He's definitely a super horse," Dominguez said after the race. "I'm not saying that because he won the race, but because of the way he did it. When (Dynever) came up to him, he had already gone fast. But he put him away. By the feeling I got from him in the paddock, I was really confident."Soto (Dehere -- Subtle Fragrance, by Crafty Prospector) earned $360,000 for the victory, his fifth in five starts. Soto prepped for the Mountaineer race with a 1:08.80 six-furlong win at Philadelphia Park on July 19. His previous start had come in the grade II Kentucky Jockey Club Stakes at Churchill Downs on Nov. 30, 2002.Dickinson said he was surprised Soto went that fast in his return. "There's always the possibility of a bounce," the trainer said. "We've been putting the emphasis on his fitness, but I still think he could be made fitter."When asked how good he believes Soto is, Dickinson said: "You'll have to tell me."Soto's next race remains up in the air, but Dickinson said the Pennsylvania Derby at Philadelphia Park on Labor Day.Allan Gorman, Soto's exercise rider, said the colt was rather rank earlier in his career but has since become very relaxed. Soto injured himself after the Churchill race last fall, but Gorman said he has come back strongly."I don't think we've gotten to the bottom of him yet," Gorman said.Soto paid $6.40 as the second choice behind 6-5 Dynever. During and Lone Star Sky were scratched off the program. Outta Here was scratched minutes before the race after jockey Kent Desormeaux said the colt appeared lame.Even with the switch from an evening to an afternoon program, total handle for the nine-race program was a record $2,513,911, with $853,467 wagered on the Derby. Rose Mary Williams, the track's director of racing, said she believed total handle could have approached $4 million had an uplink problem not kept off-track sites from wagering on the first four races.Total purse distribution for the seven-stakes program was $1,217,825, highest in the country for the day.Two other track records were set on the Aug. 9 program: Baby Shark won the $87,800 West Virginia Legislature Chairman's Cup Handicap in :50.28 for 4 ½ furlongs, and Be Like Mike won the $102,825 West Virginia Governor's Handicap in 1:41.15 for 1 1/16 miles.The $88,000 Harvey Arneault Memorial Handicap marked the return of Mark Hopkins' A Huevo, a Dickinson trainee who hadn't raced since Oct. 10, 1999. A Huevo, then a 3-year-old, won the $150,000 West Virginia Breeders Classic at Charles Town Races that night but was later disqualified for a clenbuterol positive the owner and trainer fought for some time.A Huevo suffered a suspensory injury in the Charles Town race and was on the sidelines for about two years. He began training again, then was turned out again. Dickinson said he gave it another shot, and A Huevo responded with good workouts.Hopkins said he expected West Virginia-bred A Huevo (Cool Joe--Verabald) to win the Mountaineer race, but the 7-year-old gelding acted up in the paddock and may have injured himself. He ended up finishing seventh, but Hopkins said that before that incident, he was sounder than he had ever been.A Huevo was four-for-four before the disqualification from the Charles Town race, in which he defeated older foes in track-record time of 1:50.10 for 1 1/8 miles around three turns."Did he hurt himself?," Hopkins said after the Arneault Memorial. "Possibly or probably. Was this his last race? Possibly or probably. We'll know in two or three days. He's like a pet, and Michael thinks he's one of the best horses he ever trained. This is as good a training job as he has ever done (to get A Huevo back to the races after almost four years on the sidelines)."



Copyright © 2015 The Blood-Horse, Inc. All Rights Reserved.