Reforms for Pari-Mutuel Wagering Security Outlined
by Tom Precious
Date Posted: 8/5/2003 3:51:49 PM
Last Updated: 8/5/2003 9:31:07 PM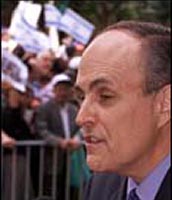 Rudy Giuliani recommends wagering reforms.
Photo: AP/Robert Mecea

Former New York Mayor Rudolph Giuliani will recommend a series of reforms to the racing industry in the aftermath of the Breeders' Cup Ultra Pick 6 wagering fraud, including creation of a central, nationwide authority to help oversee security issues."You can't let down your guard and say it's all fixed," said Michael Hess, a longtime Giuliani advisor who works for the former mayor's consulting firm, Giuliani Partners, which was hired by the National Thoroughbred Racing Association to examine the pari-mutuel industry following the incident that rocked the racing world last year.Hess, during a Saratoga Springs, N.Y., racing forum sponsored by Albany Law School, said Giuliani will make the recommendations public Aug. 17 at the Jockey Club Round Table in Saratoga. But Hess outlined a number of them Aug. 5, including formation of an entity--modeled somewhat like the U.S. Securities and Exchange Commission that monitors Wall Street--to devise national pari-mutuel safeguards and to serve as a monitoring force for the industry.Hess said the entity could devise a high-technology system to watch over the pari-mutuel side of the business, similar to a system in place at the New York Stock Exchange that can spot irregular patterns of stock buying and selling.The firm will also recommend the industry update its "antiquated" technology systems that helped allow those convicted in the Ultra Pick 6 episode to pull off their betting scheme."Technology and computer systems have not kept up," said Hess, who was Giuliani's chief government lawyer, served as his adviser on racing matters, and was a top aid when Giuliani was U.S. Attorney in New York. He said the industry's current computer systems are not able to keep up with the growing number of tote systems from which bets can be made--a trend that "opened the ability for fraud," Hess said.He also criticized the lack of recordkeeping at wagering hubs . The firm will also recommend that more uniform technology be used by tote companies to help improve security."The infrastructure of the wagering system has to be upgraded," Hess said.Hess was vague about the details for the creation of what he called the National Office of Wagering Security, other than to say it would be composed of independent officials, including security experts, to help the industry keep abreast of ever-changing technologies that would help make it less vulnerable to abuses. It was unclear if the watchdog group would be private or government-run, or how it would be funded.The entity would do security audits, including surprise inspections, of racetracks and betting hubs. "You need a central authority to oversee technology and security," Hess said.The Giuliani aide said tote systems also need to restrict access to only "very trusted" employees. "Too many people have access, we have discovered," he said. "It's too loose at this point."Hess said the positive finding about the firm's investigation is that the Ultra Pick 6 abuse was contained. "This was not a widespread thing...(but) a very limited practice," he said.In an interview later, New York State Racing and Wagering Board chairman Michael Hoblock said many of the ideas unveiled by Hess were already under consideration by state racing regulators. But he said any changes the industry makes must be made nationally, not on a state-by-state basis.Hoblock said funding, though, will be the major obstacle to getting many of the reforms implemented. At a time when some tracks can't afford to maintain their barn areas, asking them to spend more money on security issues could be a difficult reach, he said."But it's absolutely necessary to do these things for the survival of the industry," Hoblock said. "If you can't have the public's perception of a secure industry, you're not going to have an industry."Hess appeared on a panel discuss the impact of the Ultra Pick 6 fraud. "Security should not really be a goal, but an ongoing process," said New York Racing Association vice president Bill Nader, who was among those who helped uncover the fraud.On a related issue of increasing the comfort level of bettors, Nader said NYRA--starting Aug. 6--would tighten up its procedures to deal with bettor complaints about odds changing after a race has started. He said NYRA worked with its tote and television signal companies to ensure that Saratoga's television monitors--watched by 99% of bettors, he said--are first in line when it comes to posting a race's odds."Perception is everything," Nader said. "If our customers don't believe...they're getting a fair shake, our industry is dead."



Copyright © 2015 The Blood-Horse, Inc. All Rights Reserved.