Four Enter Racing Hall of Fame in Emotional Ceremony
by Evan Hammonds
Date Posted: 8/4/2003 2:00:02 PM
Last Updated: 8/5/2003 1:41:27 PM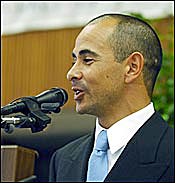 Jockey Mike Smith, speaks during Hall of Fame induction ceremony.
Photo: Skip Dickstein

A respectful foursome joined racing's Hall of Fame Aug. 4 in Saratoga Springs, N.Y., just blocks from the historic racetrack. In the cool of Fasig-Tipton's air-conditioned Humphrey S. Finney sale pavilion, the tears and raw emotion of the entrants were as thick as the unseasonable humidity outside.Receiving the customary metal plaques that mark their inductions in the National Museum of Racing and Hall of Fame were jockey Mike Smith; Carolyn Hine, on behalf of her husband, the late trainer Hubert "Sonny" Hine; Tammy Samuel-Balaz for her family's brilliant contemporary female Dance Smartly; and Wanda Hooper, wife of the late Fred Hooper, the breeder-owner of contemporary male inductee Precisionist.Along with the sheer gratitude of becoming members of racing's elite, there was time for stories and laughter among the packed house of friends, family, racing fans, and returning members. Smith, after being introduced by fellow Hall of Fame rider Jerry Bailey, lent a bit of levity when it was his turn to take the podium. "I was talking with (trainer) Bob Baffert yesterday and he was trying to give me some advise about my speech and he said, 'The most important thing you do when you get up there, is you have to start crying.' And I said, 'Bob, I'm sure I won't have any problem with that, but if I do, I'll just try to think back to last year when you took me off Vindication.' "While he didn't cry, Smith did well up and sniffle as he thanked his family, friends, and ran through a "Who's Who" list of horsemen, horses, and other jockeys that have helped him along the way. But first, he gave respect to the two other jockeys that were nominated for the 2003 Hall of Fame class, Eddie Maple and Randy Romero."Eddie Maple is just an unbelievable guy. I have the utmost respect for him. We were here at Saratoga one time -- at the time I was on top of the world and I was probably too big for my britches. Eddie had bumped me leaving the gate and cost me a race and of course I blew up and said something to him. He never said a word back. He stayed quiet. We're walking out to the paddock for the next race and he grabbed a hold of me and said, 'I want to talk to you.' He said, 'In this game do you not only have to have talent but you have to have even more class.' He said, 'I know you have both, just start showing it.'"I'd like to also mention Randy Romero. I never saw a rider that had more of a will to ride. He got hurt so many different times. I used him for inspiration back in '98 when I broke my back. Every time I wanted to give up, I've thought of Randy."Smith gave thanks to his many valets and agents, such as Paul Young, Steve Adika, and current agent Bob Meldahl. He gave credit to Brian Beach for getting the ball rolling after he returned from injury.The list of exceptional horses Smith has ridden is staggering. He mentioned, in chronological order, Thirty Six Red, Prairie Bayou, Sky Beauty, Fourstars Allstar, Coronado's Quest, Unbridled's Song, Inside Information, Ajina, Skip Away, and Vindication. He gave special thanks to 2002 Horse of the Year Azeri, who "knocked the door down for me," and Holy Bull, who was "the best horse I've ever ridden."Smith also thanked trainers and riders, including trainer "Shug" McGaughey, who "made me a better rider. When I put on that black and cherry hat (the Phipps' family silks), you made me feel like Superman." Jockey Angel Cordero Jr., "took me to a different level. He'll forever be my coach."Skip Away was a connector to the ceremonies, as Hine trained him. The Blood-Horse's Steve Haskin introduced Hine's widow, Carolyn. At the podium prior to her speech, she held up a framed photograph of her late husband. "He is here with us," she began. "I thank everyone who has been supportive in Sonny's induction. I am overwhelmed, and Sonny would have been, at the many people who have come here today and those that are here in spirit to share in this very special occasion."She recanted the story of her husband's purchase of Skip Away as a birthday present for her. Later, "he once asked me, after 'Skippy' had become Horse of the Year, who I loved more: him or Skip Away. When I didn't answer, he asked what was taking so long. I told him it was a dead heat."Sonny loved his horses, the racing world, and his country. Sonny was one of a kind. He never failed to lend a helping hand. We did have a 38-year love affair. It could have been longer, but Sonny's choice was his horses, his owners, and his profession. I was fourth. I didn't even make the board, but I accepted the role because he took such good care of me and because we had so much love and respect for each other."On a serious note, Carolyn told of Sonny's choice between his life and the horses he loved. "What is not generally known are his unselfishness and his sacrifices, without which he might very well still be here in person to accept this distinguished honor. "At a crucial time during 'Skippy's' climb to the heights of his accomplishments, Sonny's doctor's gave him a choice. There was a new procedure that offered him a good chance of extending his life, but it would mean giving up Skip Away and all of his other owners and any other pursuits in the horse business. Despite my begging him to do otherwise, Sonny elected to continue training. He gave his life for the only love he had ever known."Tammy Samuel-Balaz accepted Dance Smartly's plaque on behalf of her late father, Ernie Samuel and Sam-Son Farm. She recognized both trainer Jim Day and jockey Pat Day as being instrumental in Dance Smartly's Sovereign Awards and Eclipse Award as top 3-year-old filly in 1991."It's a great thrill to be here on behalf of my family, especially on behalf of my father who passed away in 2000," she said. "No one would have been more thrilled or more touched by this recognition than dad. I only wish he could be here today to take this all in. She had a great groom in Teresa Rice and a great team behind Jimmy (Day); Malcolm Pierce was an assistant to Jimmy during that time. Sam-Son is very much a team. We breed to race. It's a tradition we've carried on for 31 years now, and we're very, very proud. I accept the honor on behalf of the whole family and at the same time, I know I'm accepting it for all of Canada. She was just not our filly -- we were privileged to own her -- but she was Canada's filly."Wanda Hooper, who called up trainer Ross Fenstermaker from the crowd, accepted Precisionist's plaque on behalf of her late husband. Precisionist joins Susan's Girl as Hooper's horses in the Hall of Fame."Precisionist gave us tremendous pleasure...and also some anxious moments," Wanda Hooper said. "However, all of his accomplishments were most rewarding and most thrilling. Mr. Fenstermaker made him the champion that he was. Also, John Russell was Precisionist's trainer during his last campaign. He set a track record at Del Mar that still stands today. John thoroughly enjoyed training and being with Precisionist. I also want to thank (jockey) Chris McCarron. He rode the horse brilliantly. They just were a marvelous team.""I want to thank Mr. Hooper," Fenstermaker said. "He gave me a good chance. He touched so many people in this game. He was a great man and he gave me a really great horse to train. He was tough; he was a very nervous horse, but he settled in and he proved himself. There were a lot of races he should have won that he didn't and it was just bad luck. He deserves it."Profiles of Latest Hall of Fame Members:
Hine Latest Trainer Inducted into Hall of Fame
Hall of Fame Inductee Smith Back on Top
Precisionist Joins Hall of Fame
Dance Smartly Epitomized Samuel's Breeding Program



Copyright © 2015 The Blood-Horse, Inc. All Rights Reserved.