Toby Keith: How Do You Like Him Now
by Leslie Deckard
Date Posted: 7/31/2003 9:56:17 AM
Last Updated: 7/31/2003 10:01:23 AM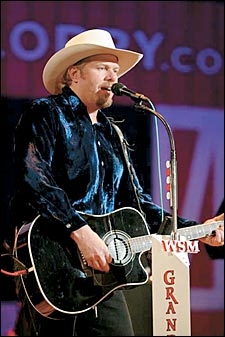 Country singer and horse owner Toby Keith.


Published in the July 19, 2003, issue of The Blood-Horse
If the name Toby Keith sounds familiar, it could be because of his string of 16 No. 1 country music singles, including eight platinum and gold albums, or from the controversy created by his recent No. 1 song, "Courtesy of the Red, White, and Blue (The Angry American)." But there is more to Keith than his brand of in-your-face country music. He is a Thoroughbred owner and breeder and damn proud of it. "Walking up on stage and performing for a sold-out audience, and doing it like 80 to 90 times a year, and having every thrill imaginable is no more exciting for me than walkin' into the winner's circle. I'm a competitive person by nature and horse racing is just thrilling for me," said Keith while relaxing on his tour bus prior to a sold-out show at Rupp Arena in Lexington. "When all this fame stuff is over, you've got to have something satisfying to fall back on, and I have that with my farm and with my horses." Keith, whose full name is Toby Keith Covel, manages hands-on both a white-hot country career and his interest in racing and breeding. Since entering the horse business seven years ago, he built the 160-acre Dream Walkin Farm near Pauls Valley, Okla., where his broodmare band numbers between 20 and 30, with an additional 10 to 12 yearlings, weanlings, and 2-year-olds. The farm has a seven-eighths-mile training track with a starting gate, an indoor walker, and a 40-stall barn. Longtime family friend Lyndon Branch manages the farm and Keith's sister, Tonni, runs the office. "You can't buy software better than Tonni. She keeps the place going," Keith said. He keeps between 15 and 20 horses in training divided between Kenny Smith in the Midwest, Paul Smith in New Mexico, and Richard Mandella in California. Keith said the long-term goal for his operation is to upgrade his broodmare band to "Tiffany stock," which he said was a core group of 10-12 mares, sell the colts, and race the fillies. "You can go to the Kentucky Derby every year, and if you lose, no one pays any attention to you," Keith said. "But if, all of a sudden, you get it right and your mares start winning, the other guys come over to see what you're doing right." While Dream Walkin Farm is home to most of Keith's horses, he and his family--wife Tricia, daughters Shelley and Krystal, and son Stelen--keep a separate 160-acre spread near Norman, Okla. Maintaining a music career and building a Thoroughbred operation take a lot of time, but Keith keeps both professions rolling. He tours from August through Thanksgiving and returns to the road from January to April. "I have TVG at home and a satellite here on the bus, so I try to watch as many races as I can and I keep up with everything on the computer. I fit the sales in when I can," he said. So far, the highlight of Keith's short racing career has been getting his first black-type win as an owner. His Big Hubie won the Sept. 22 Louisiana Downs Handicap, racing under the Dream Walkin Farm banner. Big Hubie was purchased for $29,000 at the 1999 Keeneland September yearling sale from the consignment of his breeder, Arthur Hancock's Stone Farm. Keith at first tried his hand at pinhooking, consigning Big Hubie to the 2000 Fasig-Tipton Texas March sale of 2-year-olds in training, but ended up withdrawing him. Big Hubie (Boone's Mill--Run and Run, by Royal Academy) is named for Keith's late father, Hubert "H.K." Covel, who died in a car accident in April 2001. "Dad was always cynical about naming horses. He said, 'Never name one after me.' And after we named Big Hubie he threw a shoe in his first race at Ellis Park and finished dead last," Keith said. Keith and trainer Kenny Smith lost Big Hubie for a $35,000 tag at Arlington Park in August 2001. Big Hubie was reclaimed two races later for $25,000, also at Arlington. "He's real tough; we had to get him back," Keith said. "He's just a real grinder." Keith is also expecting good things from the 4-year-old colt Golden Hare (Gilded Time--Bugs Rabbit, by Storm Cat). Golden Hare, who is in California with Mandella, has hit the board in nine of 13 career starts, with earnings of $178,160. In his last start, the May 31 Ack Ack Handicap at Hollywood Park, he finished seventh. "I really think he will develop into a nice stakes horse. Being by Gilded Time, he has a lot of natural speed. We really have high hopes for him," Keith said. Golden Hare was purchased for $145,000 at the 2000 Keeneland September yearling sale from the consignment of Taylor Made Sales Agency, agent, by Keith Thoroughbred Venture. Keith attempted to pinhook Golden Hare at the 2001 Fasig-Tipton Florida 2-year-olds in training sale but the colt failed to meet his reserve and was bought back for $100,000. "I've tried the pinhooking thing more than once, but it's a hard game and it doesn't get me jumping up and down like racing does," Keith said. The 41-year-old Keith was introduced to horse racing by his father. The pair approached Lyndon Branch's father, E.J., about buying an interest in a gelded son of Creole Dancer, Jack Branch. "We did that as a way to get our feet wet, and his first out he won by seven-and-a-half lengths," Keith said. "He was a nice, big, strong gray colt. He ended up with chips in his knees." Jack Branch won three of eight career starts and was claimed for $15,000 in his last career start in February 1999 at Oaklawn Park. "When Toby first got into the business, he really didn't know that much, but he's picked it up really quick," Branch said. "He's as hands-on as he can be. He calls me at least once a day and when he gets something on his mind about the breedings or the farm, he isn't shy to bring it up. He takes the horse business really serious." Keith readily admits his novice beginnings. "I spent the first five years in the business reading, learning, and studying pedigrees. I probably asked my buddy Bill Lockhart a thousand questions. I've come a long way on my pedigrees," he said. Besides Thoroughbreds, Keith, along with R.D. Hubbard and Johnny Jones, campaigns a handful of Quarter Horses. One of their charges, The Down Side, qualified for the 2002 All-American Futurity, where he finished 10th. "Before the race, I think R.D. told everyone that would listen that if we won, we would sell all of our Thoroughbreds. That was fun, but my real passion is Thoroughbreds," Keith said. Keith grew up near Moore, Okla., with twin passions for both music and sports. He began playing football at five, and at eight he took up the guitar. He worked as a rodeo hand in high school, and then took a job in the oil fields after graduation. He also formed the Easy Money band and hit the bar circuit. After three years in the oil fields, the industry hit a major slump, and Keith returned to his love of sports. He played two years as a defensive end for the Oklahoma City Drillers, a semi-pro team, all the while continuing to perform with his band. While playing with the Drillers, he tried out for the Oklahoma Outlaws of the ill-fated United States Football League. When the USFL folded, Keith reassessed his life, and returned to music, concentrating on writing and putting together a demo tape which ended up in the hands of Alabama producer Harold Shedd. The demo led to Keith signing with Mercury Records and releasing a self-titled album that resulted in three No. 1 hits, "Should've Been a Cowboy," "Wish I Didn't Know Now," and "A Little Less Talk and a Lot More Action." He has since moved to DreamWorks Records, based in Nashville.Continued...



Copyright © 2015 The Blood-Horse, Inc. All Rights Reserved.