Summer Tubing
by Ray Paulick
Date Posted: 7/29/2003 2:58:44 PM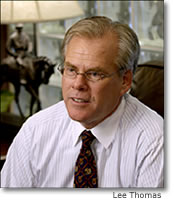 Ray Paulick
Editor-in-Chief


By Ray Paulick -- August is heaven for horseplayers. Two-year-old racing kicks into high gear as the search for next year's Triple Crown contenders gets under way. The cream from the current year's classic crop makes its return following a brief respite, and just about anyone pointing for the Breeders' Cup World Thoroughbred Championships begins to surface in key races at Saratoga, Arlington Park, and Del Mar. Fortunately, even if you can't get to one of racing's three summertime meccas, you can follow the action from the comfort of your home or office on the Television Games Network. More and more industry participants and racing fans are beginning to do so. TVG now has distribution in 12 million homes. It reaches another five million homes in Southern California on Fox Sports Net 2, which airs a two- or four-hour show at least five days a week. Subscribers to TVG are doing more than watching. They are betting in numbers that finally are catching up to some of the projections made when TVG was launched in 1999. TVG's handle in 2002, thanks to the introduction of account wagering in California, was $159 million, a 250% increase from the previous year. This past May was a record month for TVG when $27 million was bet, including $4 million on the Kentucky Derby (gr. I). (Because of exclusive contracts between NBC and Triple Crown Productions, the Triple Crown races cannot be shown live on TVG. The same is true with a number of stakes televised live on other networks, so TVG is forced to cut away as horses enter the starting gate and show the race on tape delay.) TVG has exclusive contracts with most major Thoroughbred tracks, the major exceptions being Monmouth Park and the tracks owned by Magna Entertainment, which earlier this year launched its own racing channel, HorseRacing TV. According to the Wall Street Journal, HRTV has access to about 1.3 million homes, most of them in Pennsylvania, where Magna's influence grew with the acquisition of Ladbroke's racing assets, including an 18% stake in the defunct Racing Network. TVG has a head start and enjoys a sizable market share advantage over Magna, especially in California, even though Magna owns Santa Anita Park, Golden Gate Fields, and Bay Meadows in the Golden State. In 2002, TVG captured 55% of the market share for account wagering. TVG's market share increases to 81% when its figures are combined with those of Youbet.com, a licensee of TVG. To date, TVG has returned more than $40 million to the racing industry, $22 million of that in 2002. The returns, including racetrack host fees, TVG's unique source market fees, and its contribution to the National Thoroughbred Racing Association, amount to roughly 14% of every wagering dollar TVG handles. That is a very strong number, especially when compared to other account wagering systems that take advantage of TVG's telecasts, lure bettors with rebates, and return to the industry one-third of what TVG does. Those freeloaders are one reason purses are not going up despite increases in handle; because of rebate shops, a smaller percentage of money wagered is going toward purses. TVG contributes an equitable share toward purses to the host track and to tracks in the market where the bettor resides. TVG will continue to gain momentum throughout the year, then regularly televised racing from the country's best tracks will screech to a halt in the winter when Magna-owned Gulfstream Park and Santa Anita Park hold their live meetings. Those meets will be shown live on Magna's HRTV, though the distribution network remains weak and it is not available on the Dish Network or DirecTV, which both offer TVG. Common sense says Magna eventually will have to cut a deal with TVG. Until then, let's hope August never ends.



Copyright © 2015 The Blood-Horse, Inc. All Rights Reserved.