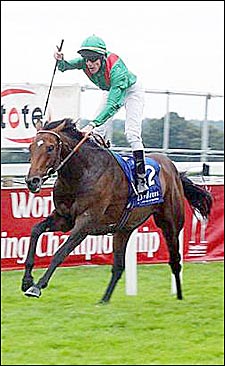 "The three-year-olds might be all right," Murtagh said to The Racing Post.

"I think you would have to say this was his best performance so far," added Oxx. "You expect good three-year-olds to keep progressing. I couldn't have predicted he'd win that well but it was a terrific effort.

"He was always traveling along in the right position very easily. The pace slowed in the middle of the race so he was in the right position and Johnny said he came alive in his hands four out. He waited to the two, let him off and the race was over."

Alamshar has been troubled by a bad back but has received daily treatment from Aga Khan's chiropractor."He's a very small little horse with a great constitution," Murtagh said. "He has a little problem with his back but his heart's in the right place and he's getting better and better.

"I won't compare him with Sinndar but he's one of the top horses I've ridden. Today the horse pulled me to the two. Unless I fell off I couldn't have got beaten on him. He quickened very well and when I looked up I couldn't believe how far I was in front. It went very quiet and I thought something was going to sneak in. I looked at the screen and I couldn't see anything."

The Aga last won the King George with Shergar in 1981.