Magic Weisner's Miracle Comeback Begins Thursday
Updated: Thursday, July 24, 2003 12:39 PM
Posted: Wednesday, July 23, 2003 6:48 PM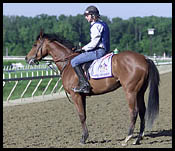 Photo: Associated Press
Magic Weisner coming back from bout with West Nile.
On Friday, moviegoers all across America will witness the emotional comeback of Seabiscuit and his jockey, Red Pollard, in the 1940 Santa Anita Handicap. One day earlier, at Laurel Race Course, another comeback will take place that is pretty remarkable in its own right.Magic Weisner, owned, trained, and bred by small-time Maryland horsewoman Nancy Alberts, will return to the races after a year's absence, during which he suffered through an agonizing ordeal, battling West Nile virus. The other two horses in Maryland who came down with West Nile both died. The disease claims the lives of 40% of the horses who contract it.The Maryland-bred gelding first came into public awareness when he nearly shocked the racing world, finishing a fast-closing second in the Preakness Stakes at odds of 45-1. He proved that race was no fluke by winning the Ohio Derby. After finishing second to Kentucky Derby and Preakness winner War Emblem in the $1 million Haskell Invitational, the Maryland-bred gelding was scratched from the Pennsylvania Derby after spiking a temperature of 102. After he began exhibiting neurological problems, he was sent to New Bolton Medical Center, where it was discovered he was suffering from West Nile virus."When he walked around the barn, he'd fall down," Alberts said. "His brain swelled up, and he was in so much pain you couldn't even touch his head. He looked and acted like he had a severe headache. And what it did was pinch some of the nerves that goes to his right hind end, and his whole hip had muscle atrophy in it. It was horrible to have to see him suffer like that. He's such a good, honest horse, he didn't didn't deserve to suffer. All I could do was make him as comfortable as I could. It was just so sad to see."Magic Weisner was administered Butazolidan and Banamine to relieve the pain and inflammation, then put on Neigh-Lox to avoid gastritis from the medication. In November, Alberts sent him to John Salzman's farm to continue his recovery. He returned to Alberts' barn at Laurel in early January, and had his first work in mid-February. But by May, he still wasn't right, and Alberts backed off on his training and hired an acupuncturist. He began to show immediate improvement and soon was back working. It wasn't until the last several weeks, however, that he began to show some of that old spark, and Alberts started looking for a race."He doesn't seem quite as racy as he did last year, but maybe a race will wake him up." Alberts said "He's worked competitively. He just has to get all his strength back in his hind end. He' been through so much, and he's come a long way. You have to give him a lot of credit just for making it around the course (Thursday). He's a happy horse right now, and he's so pretty. It's just amazing to see him come back. I don't know if I'm going to have the same horse I had. I don't think its going to tell tomorrow. I think he's going to need a race or two, but he's going to try. He's been trying in the morning, but he's just not working that fast. Every time he's worked he's gotten a little better. But it's been such a slow process. I thought he'd be ready to run three months ago, but no way. It's hard to believe it's been just about one year since the Haskell. It doesn't seem possible."Alberts is quite a story herself. The 57-year-old Maryland native bred Magic Weisner from a crooked-legged mare she bought for $1. You'll have to search far to find a more dedicated, hard-working person on the racetrack. Alberts' greatest admirer is her son, Will, a senior systems engineer at The Pentagon. "I've worked hard in my life, but I'm humbled by her," he said. "Simply put, nobody works harder than her, and believe me, she has no interest in glory and fame. She just loves what she does."It actually was Will, not Magic Weisner, who provided Alberts with her greatest moment. It came on September 11, 2001 when she found out that Will was alive and well. He was in the process of moving into a new wedge of The Pentagon when those offices were destroyed by a hijacked airliner. Three of his closest friends had already moved into the new offices and were killed."I was in a server room in the B ring, which was one ring (corridor) away from where the plane hit," he said. "It destroyed the C, D, and E rings." As much as he tries to return to a sense of normalcy, he realizes "it will never be normal again."To this day, his mom remains his biggest hero. "She's out there at 4:30 every morning, then she goes to two different farms to take care of the weanlings and yearlings. Then she returns to the track to feed the horses. Then she goes back to the farms to feed the babies. She does this every day of the year, with no help. She takes so much pride in her work, and she'll never half-ass anything."Yes, she deserves what she's gotten with Magic Weisner, but she doesn't want the spotlight. She just loves taking pride in the horses she bred and raised, the same way a parent takes pride in their children. The horses are her kids now. And she does all this despite her physical ailments. She has shingles all along the left side of her upper torso that really bother her. She has lower back problems. The back of her arm has severe nerve damage. And she suffered a broken left shoulder two weeks before Magic Weisner's Preakness. Even shortly after she gave birth to me she wound up breaking her collarbone. She's like a machine. She just keeps going and doesn't let anything stop her."If that's not enough, away from the daily grind of the racetrack and the farms, Alberts repairs horse blankets and makes nosebands (shadow rolls). According to Will, half the horses stabled at Laurel are clipped by his mother, and she'll get in a van and haul a horse for anyone who needs it.Will said the biggest reward his mother could have would not be to win the Kentucky Derby or the Preakness, it would be to find her own farm near the racetrack, instead of having to lease other people's farms."Her dream is to wake up in the morning and look out the window and see her babies playing in the field," he said. And what will Nancy Alberts be doing on the eve of Magic Weisner's long-awaited comeback? "I've got to go out and put up some fencing," she said. "I just fixed about a dozen pairs of jeans for somebody. I gotta stop doing all this stuff. I'd rather spend all my time with the young horses. But I like working. It keeps me young."
FREE! E-Newsletters from The Blood-Horse!...
Follow the top stories of major racing events, racing previews and results with FREE e-newsletters from bloodhorse.com. As news develops, we'll deliver updates to your inbox. Follow important events moment by moment, step by step!