'Old Friends' May Bring Back Strike the Gold, Sea Hero
by Steve Haskin
Date Posted: 7/21/2003 2:08:31 PM
Last Updated: 7/22/2003 12:37:36 PM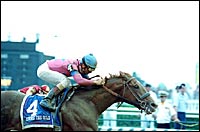 Kentucky Derby winner Strike the Gold may return to central Kentucky.
Photo: AP/Ed Reinke

The wheels are in motion to bring Kentucky Derby (gr. I) winner Strike the Gold, as well as Derby winner Sea Hero, back to the United States from Turkey, where both have been standing at stud.The project is headed by Kim Zito, wife of Strike the Gold's trainer Nick Zito, and Michael Blowen, former operations director for the Thoroughbred Retirement Foundation, who has gone out on his own and founded Old Friends, an organization to find homes for retired stallions.After leaving the TRF, Blowen moved to Midway, Ky. where he opened a small horse memorabilia store called Hoofprints. When Kim Zito called and told him she was interested in getting Strike the Gold back, he thought it was a great idea. Blowen is working with Kentucky attorney Richard Vimont, who was attorney for John Gaines for many years and now works with Rick Trontz of Hopewell Farm, who has donated a portion of the farm as a home for Old Friends' retired stallions.Blowen and Vimont plan to meet shortly with Lane's End's Bill Farish in the hope of using his father's (William Farish III) political influence before negotiations begin with the Turkish Jockey Club. Farish currently is serving as U.S. ambassador to Great Britain.Blowen, a former movie critic and entertainment writer for the Boston Globe, had worked part-time at Suffolk Downs in order to be around the horses, while owning a few bottom-line claimers. After retiring from the Globe he was offered a job with the TRF, for whom he worked for a year and a half before going out on his own."I had once written a story on an old horse named Saratoga Character," Blowen said. "Kim felt so sorry for the horse she bought him and eventually had him sent to the TRF's farm at the Blackburn Correctional Facility between Lexington and Midway, Ky. I eventually left the TRC, feeling I could raise more money on my own. I opened my little memorabilia store in Midway and donated 50% of the profits to horse retirement. I came up with the idea to have a retirement facility for old stallions, and I wanted to name the organization Old Friends from the title of Barbara Livingston's book. I called Barbara and got her OK, as well as the OK of the Blood-Horse (whose Eclipse Press published the book). Last week, we started up our web site, Oldfriendsequine.com."About a week ago, Blowen received a call from Kim Zito, who told him she had heard about his organization and was in the process of trying to get Strike the Gold returned from Turkey."He's getting older now, and I don't want to see him go to slaughter when he's finished being a stallion," Zito said. "I had been talking to someone from Turkey and I asked him what they do to stallions who have outlived their usefullness. He said, 'We eat them.' That was very upsetting, and when I told Nick what I wanted to do he was very excited about it. I tried to contact the Turkish Jockey Club, but the farm manager was busy in a meeting and I couldn't get in touch with him. That's when I called Michael and told him about my idea. He said he would also contact (Sea Hero's trainer) Mack Miller to see if he wanted to get involved with bringing Sea Hero back from Turkey when he is retired from stud duty. Now that Michael has gone full throttle with this, his ultimate goal is to raise enough money every year to buy back one stallion a year from overseas and bring them to the farm."Strike the Gold will be the first stallion. Our main concern is figuring out a way to negotiate with the Turkish Jockey Club in a way where they don't ask a ton of money for him, just because they think we're willing to pay anything. All the money will be coming strictly from donations. With everything that's happening in the world now, it would be a nice gesture on their part if they worked with us on this."Blowen, who is in the process of looking at other prospective sites for a farm of their own, has some interesting plans in store. "Once we're sure we can get Strike the Gold, we're going to have a grass roots campaign and form sort of a reverse syndicate," he explained. "We're going to sell certificates for $50 each, signed by Nick Zito. So for 50 bucks, you can own a Kentucky Derby winner, and feel good about bringing him back here from Turkey. We're going to have a fundraiser (on July 23) at Hopewell Farm. It's going to be a lot of fun, and we've gotten great response so far, and a lot of support from the racing and breeding industry. A horse like Strike the Gold will be a terrific tourist attraction, as would Sea Hero and other famous retired stallions. Our goal is to have our own place ready by next year's Derby. We're planning on having 10 2-acre paddocks. On each paddock will be the logo of the farm where the horse last stood in the United States, the horse's race record, and the colors of his silks. And each horse will have his own TV monitor that shows replays of his biggest races. This is a great time, with Seabiscuit putting the emphasis back on the horses. If we can get Strike the Gold back it'll send chills down people's spines."All Kim Zito can do now is wait and hope. "I've got my fingers crossed," she said.Click here for more from oldfriendsequine.com



Copyright © 2015 The Blood-Horse, Inc. All Rights Reserved.