Historical Liberties Aside, Seabiscuit is 'Excellent Piece of Movie-Making'
by Steve Haskin
Date Posted: 7/21/2003 10:16:47 AM
Last Updated: 7/24/2003 12:31:45 PM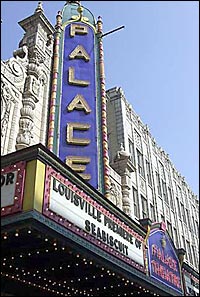 Palace Theater marquee announces Seabiscuit premiere.
Photo: Garry Jones

They rolled out the red carpet on Fourth Street in Louisville, Ky. Saturday night for the much-anticipated premiere of Seabiscuit at the palatial Palace Theater.The event was presented by Team Valor Racing Parnerships, to benefit The Race for Education. With Fourth Street closed off, and a hundred-yard red carpet laid out from Chestnut Street all the way to the theater, people gathered for a cocktail party outside and inside the theater. Outside, lining Fourth Street, were a number of vintage automobliles, as well as the Louisville Swing Band, who performed as patrons were treated to champagne and hors d'oeuvres. People were able to visit with I Two Step Too, one of the horses who portrayed Seabiscuit in the movie. The bay gelding by Spook Dance was one of several items auctioned off inside the theater prior to the movie.The Race for Education, which provides funding through college scholarships to deserving offspring of backstretch workers, was founded by Bill Casner of WinStar Farm, who gave the opening remarks. Team Valor had started a similiar scholarship a couple of years ago, named the Valedictorian Award. When Casner invited Team Valor president Barry Irwin to join his board of directors, he accepted. Team Valor donates 2 percent of the earnings (1 percent from partners and 1 percent on its own) of all its racehorses. It was Irwin who arranged for the Race for Education to get the premier of Seabiscuit. Through one of Team Valor's biggest partners and investors, Gary Barber, who is co-producer of the movie through his Spyglass Entertainment, they were able to get the film and the Palace Theater.Among the items auctioned off were a trip for two to New York City for the Jockey Club Gold Cup (gr. I), which went for $6,500. I Two Step Too went for $12,000. And the big item, the Calumet Farm horse van, built in 1939, was a buy back at $50,000. Irwin said they do have a buyer lined up.As for the movie, the crowd applauded throughout the film, giving Gary Stevens a rousing ovation when he made his first appearance. They even applauded when Seabiscuit's trainer Tom Smith, played by Chris Cooper, said to Charles Howard of a horse he had just saved, "You don't throw a life away just because he's banged up a little." The movie was beautiful to look at it, with striking cinematography and spectacular racing sequences, from the rugged bush track races to Seabiscuit's stirring victories in his match race with War Admiral and the 1940 Santa Anita Handicap. For all you Gary Stevens fans, don't expect to see too much more of him in the saddle. His acting debut was superb, and the camera instantly fell in love with him. His on-screen charisma all but assures he has a bright future in motion pictures.History buffs and readers of Laura Hillenbrand's brilliant best seller should not expect to see everything as it appeared in the book. This was definitely a Hollywood film, and several scenes and lines can be picked apart for their inaccuracies. The character of Tom Smith was softened, and War Admiral's owner Samuel Riddle came across as a man with a great rapport with the media. Don't expect to see Red Pollard's wife, who did not exist in the movie, and do not by any means compare the chart of the 1940 Santa Anita Handicap with the race seen on screen. And there was no reason to describe War Admiral as being nearly 18 hands, with the average moviegoer not knowing what that means and the racing fan laughing over such an absurdity. After having several scenes showing how important the start of the match race was, it wasn't even shown. Instead, they resorted to shots of people listening to their radios. The race is not picked up until Seabiscuit has a clear lead down the backstretch. The rest of the race, however, was nothing short of sensational, and expect some heavy duty goosebumps when Gary Stevens lets Seabiscuit go. The history was sketchy to say the least and left several questions, such as why was Seabiscuit a hero, drawing a record crowd to the infield, after showing only one victory in an unidentifiable race? In the movie, Charles Howard began his rather overzealous campaign for a match race with War Admiral after Seabiscuit lost the Santa Anita Handicap to Rosemont. No other races were shown or acknowledged until the match race, when in reality, Seabiscuit ran 22 times in between those two races, including another defeat in the Santa Anita Handicap. In fact, when Seabiscuit lost to Rosemont, he had only won a handful of minor stakes at Detroit, Empire City, and Bay Meadows. And don't expect even the slightest mention of Howard's other horse, Kayak II, in the final, dramatic Big Cap. OK, so they took a lot of liberties. Will any of this affect the average moviegoer's enjoyment of the film or appreciation of Seabiscuit as an American hero? Absolutely not. This is a movie, and mass appeal must take priority over historical accuracy. To that extent, the movie succeeds on a large scale. It is something to admire and feel, and should be recognized come Oscar time. There has been some criticism that the opening 45 minutes of the film, before Seabiscuit ever appears, was slow. But I found it to be an excellent character development that links the three human stars of the film, and makes the appearance of Seabiscuit even more anticipated. Had he come earlier, there simply would be too much racing for the average moviegoer to ingest. The movie also provided a good dose of humor, including a priceless scene involving Seabiscuit and his goat.So, all in all, this was an excellent piece of movie-making. Director and screenwriter Gary Ross should be applauded for taking a difficult subject and putting it on the screen in a way where moviegoers can witness the beauty and excitement of Thoroughbred racing as it's never been seen before. The scene showing Seabiscuit being ridden through the fields and over bridges by Pollard (played by Tobey Maguire's stunt double, jockey Ricky Frazier) was breathtaking. If you can ignore the historical liberties that were taken you'll have a great time. Very rarely, if at all, has nonfiction been made into a movie without taking liberties. If the movie succeeds in bringing horse racing into mainstream America, as Hillenbrand's book did, then the sport will catapult to a level it hasn't seen since the days of The Biscuit himself. Let the word-of-mouth begin.



Copyright © 2015 The Blood-Horse, Inc. All Rights Reserved.