Fasig-Tipton July Sale 'Survives' With Small Losses; Buy-Back Rate Down
by Deirdre B. Biles
Date Posted: 7/17/2003 8:00:31 PM
Last Updated: 7/21/2003 11:03:06 AM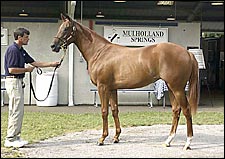 Mr. Greeley filly topped Thursday session of the Fasig-Tipton yearling sale.
Photo: Anne M. Eberhardt

Fasig-Kentucky's July yearling sale experienced downturns in its two-day run that ended Thursday. But auction company officials were satisfied with the results because none of the setbacks were dramatic in a year when mare reproductive loss syndrome (MRILS) had wiped out many of the sale's best prospects. They also were pleased with the buy-back rate, which dropped from nearly 40% in 2002 to 28.7% this year.."What I would like to do is have bumper stickers with 'We Survived' on them as our company motto," said Boyd Browning, Fasig-Tipton's executive vice president and chief operating officer. "This was our MRLS sale. A dramatic segment of our population--our core that we draw from--was gone, our young, our strong, our early foals."Fasig-Tipton reported that 303 horses were sold for a gross of $28,202,000, an average price of $93,076, and a median price of $67,000. Compared to a year ago, the number sold and gross declined 6.8% and 11.3%, respectively, while the average and median, fell only 4.8% and 4.4%, respectively. The highest price for an individual horse rose from $700,000 in 2002 to $800,000 (for a Fusaichi Pegasus filly on opening day) this year."This market was just as good as last year's," Fasig-Tipton president Walt Robertson said. "The difference in the 'not solds' dropped our average down. We found a buyer at $50,000 this year more often than we were able to last year; therefore, more $50,000 horses were reported as sold. Many of them went unsold last year, so they didn't have a negative impact on our average."Missing this year was the Keeneland July yearling sale, which attracted high rollers to Lexington who often stayed over for Fasig-Tipton's auction. There was some concern among consignors that the big buyers would stay away without the Keeneland lead-in, but Fasig-Tipton officials said they worked hard to bring them in and, for the most part, succeeded.Trainers Bob Baffert, Todd Pletcher, and D. Wayne Lukas didn't show up. But Coolmore Stud associate Demi O'Byrne was active. And while they didn't buy any horses, representatives of the Maktoum family and Eugene Melnyk were on the sale grounds."I don't think it (the lack of a Keeneland sale) had a negative impact," Robertson said.While Fasig-Tipton officials were happy with "surviving," some consignors had hoped for more"Based on the amounts of pre-screening, the vetting, and the attendance numerically, which is very strong, I thought we would have a deeper market," said Michael Hernon of Gainesway Farm. "It's a little bit of the same as usual, and I was slightly surprised with that. There are a lot of the better judges ending up on the same horses, and those ones seem to be well received in the market, but there are some opportunities to buy value."I'm not sure what happened. Maybe it's a combination of the stock market still being a little queasy and there's still uncertainty about the situation Iraq. It's conceivable (that not having Keeneland July sale affected the Fasig-Tipton sale negatively). Some of the European buyers, particularly, and a few of the notable American buyers are absent."During Thursday's final session, 151 horses were sold for a gross of $14,124,000, an average of $93,536, and a median of $75,000. The number sold, gross, and average were down 5.0%, 11.7%, and 7.0%, respectively, from last year while the median remained the same.The top price on the last day was the $500,000 brought by a chestnut Mr. Greeley fill that was purchased by Kentucky horseman Robert Courtney for his long-time client Jaime Carrion. The immediate underbidder was Nana Imamura, who is the daughter of Toyomitsu Hirai."She is just a beautiful filly with a pedigree that is going to make her a runner," Courtney said. "She brought a little bit more than I thought she would. Those kind of horses, which look like racehorses, usually do."Said Carrion: "She just fills your eye. I was dead set on buying her. I knew I was going to buy her the first time I saw her."Produced from the 15-year-old stakes-winning Topsider mare Good for Her, the filly is a half-sister to added-money winner Chris's Bad Boy (by Marquetry). Mullholland Springs was her consignor.



Copyright © 2015 The Blood-Horse, Inc. All Rights Reserved.