Fasig-Tipton Officials, Consignors Hoping for a Strong July Yearling Sale
by Deirdre B. Biles
Date Posted: 7/16/2003 9:14:30 AM
Last Updated: 7/16/2003 12:41:57 PM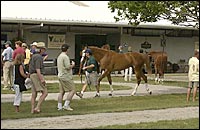 Potential buyers inspect horses at Fasig-Tipton.
Photo: Anne M. Eberhardt

With only seven horses in their Summerfield consignment at the Fasig-Tipton Kentucky July yearling sale, Francis and Barbara Vanlangendonck decided they needed to hire only a few people to work the auction. But it was so busy at their barn Sunday morning that Francis had to pitch in and help show horses."I think this sale is going to be strong," said Barbara during a brief pause in the action. " I haven't had a chance to see a lot of the other horses that are here yet, so I don't if there is a lot of depth to the quality in this sale. But everybody is here, and the good horses will bring a lot of money. I'm seeing trainers; I'm seeing pinhookers; I'm seeing owners; I'm seeing a little bit of everything. I've got my fingers crossed."With the cancellation of the Keeneland July sale, the Fasig-Tipton auction moved into the leadoff position on the Kentucky yearling selling calendar. Scheduled for Wednesday and Thursday at the company's Newtown Paddocks near Lexington, it has a catalogue of 460 horses, down from the record high of 600 a year ago (excluding yearlings that received hip numbers, but were withdrawn before the books were printed). Fasig-Tipton officials blamed the decline on mare reproductive loss syndrome (MRLS), but said they were still able to find plenty of good-looking horses. According to trainer Kenny McPeek, they didn't exaggerate. "They've done another rock-solid job," he said. "They've got some nice quality horses in here. I've seen good horses in just about every consignment that I've been to."While Fasig's July sale doesn't usually attract yearlings with the very best pedigrees, it has earned a reputation for presenting well-conformed individuals. It was one of last year's strongest performing auctions, experiencing a 37% increase in gross revenue. Its average price rose slightly, extending its upswing for an eighth consecutive year. And its median price held steady. While there are economic problems both inside and outside the Thoroughbred industry, Fasig-Tipton president Walt Robertson expressed confidence that the sale could turn in another positive effort."We're anticipating a good sale," he said. "I like the horses that I've seen so far -- and let's face it, that's what it's all about. It's also three days out from the sale and there are a ton of people here--and they're the right people. Through the last 24 months, the economy in this country has been all over the board--mostly heading South -- but I'm not concerned. Our game has been as steady as I've ever seen it."Fasig-Tipton has spiffed up its facilities, installing wood paneling and new flooring in its back walking ring, which formally had a somewhat cold, industrial look.Selling starts each day at 10 a.m. (EDT). Updated results after each horse goes through the ring will be available at bloodhorse.com throughout both days of the sale.Catalog, Other Information from Fasig-Tipton



Copyright © 2014 The Blood-Horse, Inc. All Rights Reserved.