Hollywood Park race Report: Ready, Aim, Fire
by Craig Harzmann
Date Posted: 7/13/2003 9:58:16 PM
Last Updated: 7/15/2003 1:03:09 PM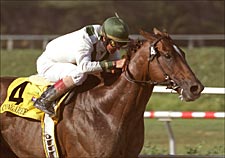 Congaree comes to the line three lengths ahead of Harlan's Holiday in the Hollywood Gold Cup.
Photo: AP/Benoit

Published in the July 19 issue of The Blood Horse
As the clubhouse turn straightened out, and the first phalanx began to make its way along the backstretch, jockey Jerry Bailey had his hands full and his mind examining the options. Beneath him, Congaree was on edge, anxious to be let loose. A tiring longshot was just strides ahead. Off to the right raced a pair of talented rivals. And there was an inviting hole at the rail. A quick decision was vital. Bailey could just sit and wait, fighting Congaree each step of the way, then surgically work his way around the threesome later on. On the other hand, he could simply open his fingers, allowing Congaree to feel the liberty of a slack rein, and ease through along the fence. "It was a choice to make," Bailey said later. "Sometimes you just gotta pull the trigger." Bailey did, and the sound was loud and clear. With the gesture, the slight release of a tight grip, the rider turned the horse free then and there, and Congaree presently turned the final half-mile of the July 13 Hollywood Gold Cup (gr. I) into a foregone conclusion. His lopsided three-length victory over Eastern invader Harlan's Holiday finally disintegrated the abiding notion that 10 furlongs was out of his reach. "There wasn't any doubt," trainer Bob Baffert demurred. "If they get the right trip, they can get it. They have to be ready to get the mile and a quarter. He was ready today." The 64th Gold Cup saw a return of the same Congaree who has played with quality fields this year in the San Pasqual (gr. II), San Antonio (gr. II), and Carter (gr. I) Handicaps, not the horse who waded to the wire a poor sixth in May's Metropolitan Handicap (gr. I). It was that very effort, though, which had Bailey sizing up Congaree's long-distance chances just an hour before game time. "It doesn't matter where he is as long as he's relaxed. I'm telling you, in a couple of those races last winter at Santa Anita, he could have been last," the rider said, relaxing himself in the Hollywood jocks' room. "I think he's got to decide on his own, and I'm a little bit concerned because he's coming off a race in which he went after the leaders. He might leave there with his hair on fire. I just don't know." The presence of Golden Ticket and Western Pride, both designated speed horses, ensured Congaree would at least have a hot pace to contend with, and it didn't take long before the Gold Cup field split into two separate packs. As expected, Pat Valenzuela whisked Golden Ticket to the front when the gates opened, and the Deposit Ticket gelding was pursued into the first turn by Western Pride, Congaree, and Harlan's Holiday. Several lengths behind, longshot Rodion, Kudos, and Piensa Sonando kept close company. Up ahead, Golden Ticket was en route to running a :45.71 opening half that would seal his fate as well as Western Pride's. Bailey, meanwhile, was getting mixed signals from Congaree in third. The son of Arazi had settled kindly enough during the first furlong, but soon he began to tug at Bailey, resisting the rider's firm restraint around the clubhouse turn. The dashing chestnut continued to pull as Golden Ticket towed the foursome onto the backstretch. After weighing his choices, Bailey decided to roll the dice. In an instant, Congaree had run through the bridle, carrying Bailey inside and past Golden Ticket to the lead. Watching it unfold, jockey John Velazquez put Harlan's Holiday on the engine as well, and with three furlongs to run, the chase was on. It didn't last long. "I was hoping that he might back up to me a little bit since they were going pretty quick," Velazquez said. "But when I got to him, he had another gear." Harlan's Holiday got as close as anyone--about 1 1/2 lengths--and even then, the Harlan colt could only march on helplessly as Congaree hit the stretch and bounded off into the distance. After a mile in a taxing 1:34.29, Congaree still managed to extend his lead, rolling past the wire looking very much like a competitor who thrives at 1 1/4 miles. Harlan's Holiday was game in defeat, two lengths ahead of third-place Kudos. Despite the final clocking of 2:00.48, Baffert claimed that Congaree, a homebred racing for Bob and Janice McNair's Stonerside Stable, had trounced the Gold Cup bunch without optimal fitness. "He's not really at the top like he was this winter. I really think by the fall he should be stronger," Baffert said. "The main thing is to have him ready for the Breeders' Cup." Continued...(Chart, Equibase)



Copyright © 2015 The Blood-Horse, Inc. All Rights Reserved.