New York AG Approves of NYRA Action on Security, Money-Handling
by Tom Precious
Date Posted: 7/2/2003 8:47:56 AM
Last Updated: 7/4/2003 4:01:05 PM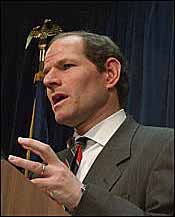 Eliot Spitzer, New York AG "applauds" NYRA actions.
Photo: Associated Press

New York Attorney General Eliot Spitzer said he came away from a one-hour meeting with New York Racing Association Chairman Barry Schwartz convinced that NYRA will now be taking steps to improve the operations he sharply criticized last month following a three-year investigation.The meeting, after which NYRA announced several new actions, including the hiring of a former New York City police commissioner to review its security operations, featured "a significant discussion of both past issues and ways to address the issues prospectively,'' Spitzer told the Blood-Horse.Spitzer said the meeting with Schwartz in Manhattan didn't change his position on the findings of his highly charged recent report about widespread wrongdoing and management lapses at NYRA. "Having said that, the report never suggested that the (NYRA) board lacked the desire to push NYRA in the right direction. The criticisms in the report were directed at management and past behaviors, not the board. Consequently, having the board begin to aggressively pursue these issues is very affirmative,'' Spitzer said.Spitzer called Schwartz "someone whom I trust and I'm sure will work aggressively to move NYRA in the right direction.'' Spitzer, who called for the firing of NYRA President Terence Meyocks, a demand Schwartz rejected last week, said the issue of Meyocks was discussed. He declined to comment further.After first rejecting Spitzer's findings out-of-hand, NYRA on July 1 said it had hired SafirRosetti, a Manhattan firm that will examine NYRA's security operations, cash handling and other aspects of NYRA's internal workings that were subject of intense criticism by Spitzer. The firm will also "assist NYRA in its daily compliance with all applicable laws and regulations,'' NYRA said. The firm was founded by former New York City police and fire commissioner Howard Safir and Joseph Rosetti, the former security chief at IBM.Safir, in a written statement, said Schwartz committed "to a full and open review of all NYRA operations.''Spitzer, who last month said state officials should consider removing NYRA as the operator of Aqueduct, Belmont and Saratoga, called the hiring of Safir's firm "certainly an affirmative step.''NYRA is bracing itself for the release of a potentially damaging audit by state Comptroller Alan Hevesi; racing industry executives say the report could be out in a couple weeks while state officials say sometime in August is more likely. Meanwhile, there are rumblings of more federal actions against NYRA officials. Investigations by the state and federal governments have led to dozens of arrests and convictions the past couple years on everything from money laundering charges to tax evasion.Besides hiring Safir's firm, the NYRA board also announced it was creating a special committee to ensure that NYRA has taken "all appropriate steps'' to respond to Spitzer's investigation. The committee will be composed of NYRA board members Albert Fried Jr., Stuart Janney III, Peter Karches, Richard Santulli and Stuart Subotnick.Schwartz did not return calls for comment. In a written statement, he said the steps NYRA took July 1 "reflect NYRA's commitment to maintaining its historic role as the caretaker of the integrity and preeminence of New York racing.""These are good steps that I applaud,'' Spitzer said of NYRA's actions.



Copyright © 2015 The Blood-Horse, Inc. All Rights Reserved.