Casino Mogul Trump Joins List of NYRA Critics
by Tom Precious
Date Posted: 7/1/2003 3:21:57 PM
Last Updated: 7/2/2003 9:44:12 AM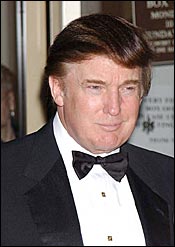 Casino mogul Donald Trump.
Photo: AP/World Wide Photos

Using a smiling, cigar-chomping photograph of gangster Al Capone atop a caption saying "he would have loved'' the thought of putting slot machines at New York Racing Association tracks, casino mogul Donald Trump has joined in on the growing chorus of NYRA critics.Trump, who owns three casinos in Atlantic City, took out full-page advertisements in several New York newspapers July 1 to highlight state Attorney General Eliot Spitzer's recent investigation of NYRA. The ad says "NYRA has shown they do not have what it takes'' to run a "legitimate gaming operation.''"We don't want to be scammed!'' the ad states. "Say NO to slots at the racetrack.''The advertisement comes a couple months after NYRA said it chose Las Vegas-based MGM Mirage to run its video lottery terminal program at Aqueduct racetrack. NYRA officials had said the choice was between MGM and Trump.Trump and NYRA Chairman Barry Schwartz did not return calls for comment.It is unclear what the ad is seeking, since it states there is a "pending proposal'' to allow slots be installed at NYRA's three tracks. It says the plan, which is "truly astonishing'' given the recent Spitzer report, should be rejected.However, there is no such plan in the works. NYRA, along with other racetracks in the state, was permitted in 2000 to install VLTs, but only at its Aqueduct facility. No track has turned on any VLTs because they say the 2000 law was a money-loser for them; a new VLT plan was approved this spring by state lawmakers that racetracks say should permit the devices to be activated sometime in the coming year.The Spitzer report found a series of management lapses at NYRA and a lax attitude that has led to corruption, cheating of customers at the betting windows and questionable cash controls. Spitzer called on NYRA to fire its president, Terence Meyocks. NYRA has shot back that Spitzer's report was based on old or inaccurate information, though last week began to make sounds of taking some sort of actions to respond to Spitzer. It has refused to oust Meyocks.On an Albany radio station, Trump called Spitzer's report "unbelievable'' and questioned the legality of the racetrack VLTs. "They're calling them VLTs, but they're slot machines and you wouldn't be able to tell the difference between a VLT and a slot machine," Trump said. "It's just totally unconstitutional what they're doing and I thought I'd bring it out."Gov. George Pataki, who has not directly responded the findings of the Spitzer report, told reporters that he had seen the Trump ad. "Everyone's entitled to advocate for their positions," he said.



Copyright © 2015 The Blood-Horse, Inc. All Rights Reserved.