Hollywood Park Report: She's a 10
by Craig Harzmann
Date Posted: 6/21/2003 8:25:47 PM
Last Updated: 6/24/2003 3:05:06 PM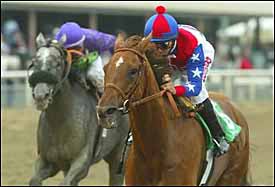 Horse of the Year Azeri scores 10th straight win.
Photo: AP/Benoit

Published in the June 28 issue of The Blood-Horse
At this point, the comparisons are impossible to avoid. Azeri has now won 10 races in a row, just as many as Ruffian did. There have been 10 graded stakes wins, as well--eight, in fact, grade I--which matches the feats of Personal Ensign. She has more victories than Genuine Risk, more earnings than Winning Colors, and one big honor that none of these racing greats ever attained--a Horse of the Year title. For Azeri, however, there is still much left to accomplish. Some mares have earned more money than she. Others have garnered more titles and won at longer distances. And yes, there were those strong enough in their day to even whip the boys. There are so many things to think about now, so many options, so many objectives. But while Azeri is busy fashioning a Hall of Fame career of her very own, perhaps it's not wise to look too far ahead, to envision this conquest or that accolade. Maybe it's improper to evoke such all-stars from the past. Good horses do come and go, but the great ones, they streak through the racing atmosphere like comets. It's best to simply appreciate Azeri for what she is--a legend in progress--and value every move she makes. Her entourage, of course, doesn't need the advice, which explains their backstretch enjoyment as the big girl first demanded and then ripped into her hay net the evening of June 21, about an hour after ripping apart another unfortunate cast in Hollywood Park's $250,000 Vanity Handicap (gr. I). Azeri's two-length decision--her second straight victory in the Vanity--lacked her usual firepower, at least if you were expecting another death-defying move around the turn or an early stretch blowout. Instead, it was a nine-furlong exercise in discretion by jockey Mike Smith, the direct result of Azeri's competition both on the track and on the scales. The Jade Hunter mare shouldered 127 pounds in the Vanity, just as she did four races back at Oak Tree. Runner-up Sister Girl Blues, by contrast, had a mere 111. Despite the imbalance, Smith and Azeri were purely professional yet again, racking up their 10th straight. "He knew he had that filly measured, and he just did enough in case somebody was coming at him," said trainer Laura de Seroux, praising Smith's efforts. "He was very cognizant of the weight that she was carrying. Why take a chance? For what? She's still going to win. She won by a comfortable two and she gave them a thrashing in a quietly confident way." Give full credit to Sister Girl Blues and jockey Goncalino Almeida for at least making a race out of it. To the surprise of many, the Hold for Gold filly denied Azeri both the rail and the lead in the Vanity, hanging tough in front until Smith and the champ finally ended it at the eighth pole. Bare Necessities closed in and nearly caught Sister Girl Blues for second, missing by a half-length. Smith would later state that Azeri could have blown the race open at any point, that keeping the margin close at the finish was by design. "It ain't gonna hurt. She ain't gonna let 'em by. She's that kind of horse," he said. "I didn't think she needed to do any more. Gonzo's filly ran a big race today, but I never felt in jeopardy. I was more concerned with somebody--Bare Necessities, actually--coming late and getting me. In these kinds of races, it gets to a point where they're just looking to see if they can beat you somehow. "Actually, the most impressive part of the race probably was galloping out," Smith continued. "When I stood up and went to pull her up, man, she shook her head, cut off with me, and wanted to go on. The outrider had to get me. That lets you know that she's there. Most horses, after carrying 127 pounds in a grade I, when you stand up they're spent." Azeri may be an altogether different breed, though. She's more or less wiped out the West Coast's ration of distaffers, and her latest display fueled opinion that a showdown with males is imminent. Will she finally step out of her division and meet the boys in the San Diego Handicap (gr. II)? Will she stay put and instead shoot for the Clement L. Hirsch Handicap (gr. II), assured of bearing the heaviest impost of her career? Both races are at Del Mar, scheduled for early August. Both are run at 1 1/16 miles. It now comes down to a few pounds and a lot of pressure. The next decision will be pivotal. "Keeping her winning determines our choices. We want her to keep winning," de Seroux said, adding that Saratoga's Whitney Handicap (gr. I) is also under consideration. "It's apparent that she won't race in July. She just carried a lot of weight going a mile and an eighth." "We're really just taking one race at a time," admitted co-owner Mike Paulson, son of Azeri's late breeder, Allen Paulson. "I wouldn't mandate that we go against the males if Laura wasn't fully confident that Azeri was at 100% and it was the best race for her. That's why it's such a big responsibility for Laura and myself just to make sure we make the right move." Trainer Jerry Hollendorfer, conversely, is facing no such dilemma with his colt Eye of the Tiger. After an encouraging run in last month's Kentucky Derby (gr. I), the 3-year-old son of American Chance came back on June 22 and KO'ed a small field in the $103,096 Affirmed Handicap (gr. III). Bred and owned by John Gunther, Eye of the Tiger took the 8 1/2-furlong Affirmed by 4 1/2 lengths, an effort sure to give him a solid chance in the Swaps Stakes (gr. II) on July 13. Ministers Wild Cat held off Bullistic for second, while Outta Here, another Derby contestant, ran fourth. b AT THE WIRE:
As a consequence of the $267,227 minus show pool created in Azeri's last start, the Milady Breeders' Cup Handicap (gr. I), there was no show wagering in the Vanity. Azeri paid $2.60 to win...The Graduation Stakes at Del Mar on July 30 is next on the docket for Stalking Tiger, a son of the Storm Cat stallion Twin Spires, who had little difficulty taking the 5 1/2-furlong Haggin Stakes on June 21. The 2-year-old colt won by three lengths to stay unbeaten for trainer Paul Aguirre and new owner David Milch...Another Dubai-prepped youngster has struck first time out for trainer Eoin Harty. Flushing Meadows, a 2-year-old son of Grand Slam, drilled maidens in his first start on June 22. Bronze Route, too, has a license to be something special. A half-sister to grade-I standout Golden Ballet, the 2-year-old filly took her debut as well on June 19, becoming the first winner for her sire, Mud Route. She comes from the Jenine Sahadi barn...His bad back woes behind him, Ten Most Wanted has bounced out of the Belmont Stakes (gr. I) itching for another fight, according to trainer Wally Dollase. The Deputy Commander colt worked a half-mile in :48 and change on June 19 and remains on target for the nine-furlong Swaps Stakes. By Craig Harzmann
(Chart, Equibase)



Copyright © 2015 The Blood-Horse, Inc. All Rights Reserved.