Azeri Takes On an Overmatched Vanity Cast
Date Posted: 6/19/2003 7:11:45 PM
Last Updated: 6/21/2003 1:47:03 PM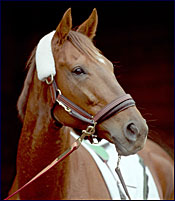 Azeri returns to action in Saturday's Vanity Handicap.
Photo: Barbara D. Livingston

(from track report)
Azeri, the magnificent 5-year old mare who ruled racing last year, will attempt to extend her victory string to ten on Saturday when carrying an imposing 127 pounds in Hollywood Park's $250,000 Vanity Handicap (gr. I).Azeri won the same race easily last year under 125 pounds.Even with a weight assignment to match the heaviest of her brilliant career, the reigning Horse of the Year is expected to dominate a field of seven in the 1 1/8-mile stakes race for fillies and mares.Wally Dollase – trainer of second high-weight Bare Necessities, a winner of three consecutive stake races – all but conceded victory to champion Azeri. "If I was to run second in a Grade I, I'd be pleased," he said. At 118 pounds, Bare Necessities will get a nine-pound weight concession from the prohibitive favorite.Azeri drew post position No. 6 in her quest for a fourth straight Grade I triumph, a string that began with a five-length victory last October in the Breeders' Cup Distaff at Arlington Park. She most recently won the Milady Breeders' Cup Handicap at Hollywood Park by three lengths on May 24.Mike Smith, her regular rider, expects that the competition will try to gang up on Azeri. But neither Smith nor his mount seems to mind. "That's the only way you can try to beat her. You just can't let her run around there. But she loves it. She really does. And she sees them coming. I don't even look. She tells me they're coming. She jumps on the bridle and just cuts away."Alex Solis will ride Bare Necessities, likely second choice in the Vanity, for the first time. Owned by Iron County Farms, the 4-year-old gray filly has earned $565,281 from six wins in 14 career starts. She won the $250,000 Sixty Sails Handicap by three lengths in her last start on April 26 at Hawthorne Park in Chicago. Bare Necessities will run as an entry with American Czarina.Even with six betting interests in the race, the Vanity will not offer show wagering in deference to Azeri's remarkable record. Victory in the Vanity would be worth $150,000 and raise Azeri's earnings to $2,804,820 for Michael Paulson and the Allen E. Paulson Living Trust. The chestnut daughter of Jade Hunter enters the race with12 wins from 13 lifetime starts, her only loss a second following a poor start in the La Canada Stakes at Santa Anita 16 months ago.Much of the speculation surrounding Azeri concerns not so much the Vanity, but when she might run against males. Paulson and trainer Laura De Seroux remain noncommittal on the issue, but they have not ruled out the July 13 Hollywood Gold Cup as a consideration.Azeri galloped Thursday and appears to be in the comfort zone for Saturday. But De Seroux warned not to think the champ has lost her edge."There was a red alert after she won the Apple Blossom," said De Seroux in reference to a series of fast works. "But there is a little more Zen-like Azeri now. She was like a statue out there today, as calm as can be."But she still breathes fire. When she saw another horse while she was galloping, she got tough." Paulson, who also liked what he saw, accompanied De Seroux. Azeri's winning streak reminds him of the 16-race winning streak that two-time Horse of the Year Cigar carved out during the mid-1990s for his father, Allen."I saw most of Cigar's wins," said Paulson, who said he feels a certain amount of pressure in making the right choices with the mare his late father bred. "This streak is equally exciting, and I have a lot of responsibility to do the right thing and keep her winning. Our goal is to win." Azeri seeks to become the first Vanity repeater since It's In The Air in 1980. Her weight assignment is the most for a Vanity winner since champion Paseana won under 127 in 1992. The weight also equals a career-high assignment of 127, which Azeri carried to victory in the Lady's Secret Breeders' Cup Handicap at Santa Anita in October.Azeri, a chestnut daughter of Jade Hunter, has won 12 of 13 starts and earned $2,654,820. She is closing in on the female Thoroughbred career earnings mark of $3,540,542 set by Spain last year. The male record, of course, belongs to Cigar at $9,999,815.$250,000 Vanity Handicap (gr. I), fillies & mares 3 & up, 1 1/8 mile
PP. Horse, Jockey, Wgt.
1. Tropical Blossom, Tyler Baze, 110
2. a-American Czarina, Victor Espinoza, 111
3. Sister Girl Blues, Goncalino Almeida, 110
4. Keys To The Heart, Jose Valdivia Jr., 112
5. a-Bare Necessities, Alex Solis, 118
6. Azeri, Mike Smith, 127
7. Meguial, Felipe Martinez, 110
a-entry



Copyright © 2015 The Blood-Horse, Inc. All Rights Reserved.