Giuliani to Deliver Report at Round Table Conference
Date Posted: 6/19/2003 1:11:24 PM
Last Updated: 6/20/2003 10:57:26 AM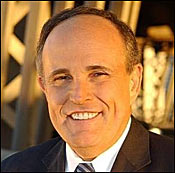 Former NYC mayor Rudy Giuliani will speak to Round Table forum.
Photo: Giuliani Partners

Former New York City mayor, Rudy Giuliani, now chairman and CEO of Giuliani Partners, will present a report on the integrity of electronic wagering in the racing industry on Aug. 17, at The Jockey Club's Round Table Conference on Matters Pertaining to Racing in Saratoga Springs, N.Y. The Jockey Club chairman, Ogden Mills Phipps, made the announcement Thursday morning. Giuliani Partners and Ernst & Young were retained last fall by the Wagering Integrity Alliance, which was formed by the National Thoroughbred Racing Association to manage and oversee the racing industry's review of its electronic wagering systems in the wake of the Breeders' Cup Pick Six fraud on Oct. 26, 2002.Giuliani Partners, a New York City-based management consulting firm staffed by several of Giuliani's top advisers, has worked closely with the Wagering Integrity Alliance since November. Giuliani Partners works with major corporations to enhance and secure their knowledge, financial, and physical assets, their people and their brand. "The Pick Six wagering fraud was obviously a dark chapter in the history of our sport," Phipps said. "Many factions of the industry have worked closely over the past eight months to rectify the security breaches that led to the commission of this crime. There is still more work to be done and, at the same time, an opportunity to upgrade the industry's wagering systems. We are looking forward to hearing the Giuliani Partners' report."The 51st Round Table Conference returns to its former location, the Gideon Putnam Hotel & Conference Center in Saratoga Spa State Park, this year. The remainder of the program for the Round Table Conference, much of it also focusing on integrity and security issues, will be announced later.



Copyright © 2015 The Blood-Horse, Inc. All Rights Reserved.