Zito Drops Fight, to Serve Suspension
by Tom Precious
Date Posted: 6/18/2003 11:46:20 AM
Last Updated: 6/19/2003 10:12:03 AM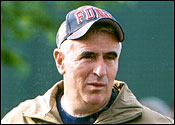 Trainer Nick Zito to serve suspension in July.
Photo: Barbara D. Livingston

Trainer Nick Zito has dropped his legal fight with New York racing regulators and decided to begin serving a 10-day suspension slapped on him more than two years ago.The decision comes after a federal judge in Albany recently refused to issue a stay of the suspension while Zito continued his legal battle against the state Racing and Wagering Board. Zito had already taken his case, and lost, as far as he could in the state court system.The veteran trainer will begin serving his suspension July 6, his lawyer, Leo McGinity, said this morning. "He's just going to try to put it behind him and get ready for Saratoga,'' McGinity said.Zito was originally given a 15-day suspension. But in a recent deal with state regulators, he is being ordered to serve a 10-day suspension, with the extra five days suspended as long as one of his horses doesn't get another positive drug test in the future."We fought this as long as we could fight it,'' he said, adding that Zito feels strongly that he is innocent of the charges.The Court of Appeals, New York's highest court, last month refused to hear an appeal brought by Zito of lower court findings that upheld a $2,000 fine and 15-day suspension after Marks Minor tested positive for lidocaine 38 minutes after finishing second at Saratoga on Aug. 2, 2000.Zito denied the horse had been administered the drug. He claimed the penalty was too harsh and that the drug could have been ingested after the race's start because it can show up in tests 30 minutes after being administered. A mid-level appeals court rejected the claim that the horse could have accidentally come in contact with the drug in the receiving bard as "purely speculative.''The drug cannot be used on a horse, under New York law, within seven days of a race. A veterinarian testified that the drug was given to the horse probably within 24 hours of the race, and certainly within the one week window. The drug is used to control an irregular heartbeat and to reduce pain. Zito had originally faced a $1,000 fine. But the state Racing and Wagering Board doubled that during his appeal to the board. An appeals court said the fine and suspension was "typical and well within the range of penalties imposed by (the racing board) in similar cases and we find no basis upon which to disturb it.''Stacy Clifford, a racing board spokeswoman, defended the state's rules that target trainers for incidents like the one involving Marks Minor. She said other states that now don't have rules holding trainers responsible for such things as positive drug tests are beginning to look at the New York rule."If not the trainer, then who should be responsible,'' she said. "We understand the trainer can only be in one place at a time, but does that absolve the trainer if he's not in the barn when something happens?''Once it became clear the federal judge would not grant a stay of the suspension during the appeal, Zito's lawyer said the case then would become merely a case about monetary damages. "That's not something that interested Nick. This was about clearing his name and re-establishing his integrity,'' McGinity said.



Copyright © 2015 The Blood-Horse, Inc. All Rights Reserved.