Captivating Crown
by Ray Paulick
Date Posted: 6/13/2003 10:41:09 AM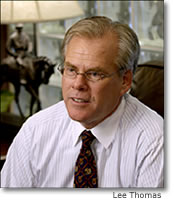 Ray Paulick
Editor-in-Chief


Horse racing's dream run isn't over. It's just on hiatus for a couple of months. At least everyone who hopped aboard this magical journey--from Broadway and television stars to a retired school teacher from upstate New York--can hope the Funny Cide story didn't end when Empire Maker left him in the murk and mud at the top of the Belmont Park stretch on June 7. "Sex in the City" star Sarah Jessica Parker--who attended the 135th Belmont with actor husband Matthew Broderick--was said to have tears streaming down her face as Funny Cide struggled home third to Empire Maker in this longest of the Triple Crown races. Same goes for Mark Phillips, the retired math teacher who was one of 10 partners in the Sackatoga Stable who enjoyed the ride of their lifetime these past five weeks. Parker and Phillips weren't the only ones moved by the unique story of the gelding, one foaled in New York no less, a David who slew Goliath in the Kentucky Derby (gr. I), then overcame false charges of cheating by annihilating the opposition in the Preakness Stakes (gr. I). Across the Atlantic Ocean in the French Alps, New York Times columnist George Vecsey reported champion cyclist Lance Armstrong kept one eye on Funny Cide while training toward an unprecedented fourth title defense in the Tour de France. Armstrong, who has battled cancer and unsubstantiated charges of blood doping during his own dream run, latched onto Funny Cide after a Miami Herald story suggested jockey Jose Santos may have carried a "buzzer" in the Derby. "I've been through some stuff like that myself," Armstrong told Vecsey after the Belmont. Funny Cide, his 10 Everyman owners, jockey Santos, and trainer Barclay Tagg (whose cat-and-mouse games with the press infuriated journalists while no doubt delighting people who can't stand the media) captured the public's imagination like nothing else in the 25 years since Affirmed outdueled Alydar to win the Triple Crown. Racing has seen some great horses, from working-class hero John Henry to perfect Personal Ensign to the mighty Cigar, but this was different. The Belmont's overnight television rating of 10.4 was the highest for any racing telecast since 1990. Funny Cide, the joys of horse ownership, and the Thoroughbred industry in general were subjects for stories in print and electronic media that seldom if ever have racing on their radar. Newspaper columnists like Bob Ryan of the Boston Globe (who admits to being at a racetrack just six times in his long career) turned out to see Funny Cide. So did more than 100,000 others, and the actress and the retired teacher weren't the only ones with tear-stained cheeks. Empire Maker and Funny Cide both are being pointed toward the Travers Stakes (gr. I) on Aug. 23. If all goes according to plan, they will each have one race before then on Aug. 3--Empire Maker in Saratoga's Jim Dandy Stakes (gr. II) and Funny Cide in Monmouth's Haskell Invitational Handicap (gr. I). The Travers, traditionally Saratoga's biggest day, will hit gargantuan numbers for attendance and handle in 2003 if both horses show up. The Travers will have a trickle-down effect, too. Other tracks offering live racing that day will benefit from fans coming out to watch and wager on the Travers. And the trickle down won't end on Aug. 23, especially if Funny Cide and Empire Maker both remain healthy and continue their rivalry deep into the fall and beyond (although Empire Maker's status as a top stallion prospect lessens the chances of him continuing his racing career in 2004). Funny Cide and the people around him did more than create a five-week buzz this spring. They are helping develop new fans for a sport whose future is brighter than it has been in a long, long time.



Copyright © 2015 The Blood-Horse, Inc. All Rights Reserved.