On the Bus
by Lenny Shulman
Date Posted: 6/13/2003 10:40:30 AM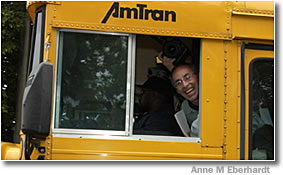 Lenny Shulman arrives at Belmont aboard Funny Cide fan bus.


By Lenny Shulman -- We met them as their magical journey began in the box seats of Churchill Downs, and said goodbye for now in the boxes of Belmont Park, 800 miles east. Palms upturned and empty smiles across their faces, the "Sackatoga Ten" had every right to be disappointed. But theirs was the disappointment of people who still got to fly over the rainbow and bring back half a pot of gold. Which is to say it's been a pretty damn good ride these past five weeks. They are the self-proclaimed "hicks from the sticks," but, as usual, the facts encroach on the legend. Sure, six of them grew up together in a tiny town in upstate New York, but this crew includes shrewd businessmen and guys who like to go to the Saratoga races and to the Spa's popular watering holes afterward. To their everlasting credit, whoever those masked men were, Sackatoga Stable captivated the racing world, and captured the imagination not only of their brethren in Sackets Harbor, but of the people in another town called New York City. And that's a pretty good daily double. They were originally supposed to stay at the tony Garden City Hotel during Belmont week, but as their numbers swelled with the influx of family and friends, Sackatoga fittingly ended up at the JFK Sheraton, a nondescript airport hotel closer to the track that was also hosting a blue-collar wedding Belmont Stakes Day. A wedding photographer vied for space with camera crews interviewing every Sackets Harbor celebrity they could find. There was racing manager Jack Knowlton in the lobby at 9 a.m., looking at a picture of his horse and reading the headline off a New York newspaper: "Go Get It." Two members of the entourage pass nearby. "You got the Bloody Mary mix?" "Yeah, I just need a can opener." J.P. Constance stops at every microphone he can find, like the ex-mayor that he is. He is asked about the incoming money from Funny Cide. "My wife wants a new kitchen, so if I can get away with a counter top and a new stove I'll be OK." Mary Ellen Powers stands off to the side, shaking her head and smiling. She was Constance's music teacher at Sackets Harbor High. "He couldn't carry a tune, but he can sure act--can you tell?" By the front door, the Rev. Doug Comstock of St. Andrew Catholic Church in Sackets Harbor holds court, explaining he is here in a "religious capacity, and whatever other capacity arises." Constance chips in, "Why shouldn't he be here, he only works one day a week?" The entire show stops when Gus Williams hits the scene resplendent in his derby hat, plaid sport coat, and canary yellow pants. Off an operating table just two weeks before, Williams, carrying an already-used can of Budweiser, receives the biggest cheer of the morning. He gives the crowd his signature cry: "Let's go get the money." The four school buses pull out for the track. Drivers on the Belt Parkway honk their horns, to which everyone screams back, "Funny Cide." The Bloody Marys and beers flow. A voice yells to the priest, "Father, we need more holy water." Knowlton says he's pretty calm. "Nothing we can do now but enjoy the moment." Near the track, along Hempstead Turnpike, people stand in gas stations and on street corners photographing the now-famous Sackatoga school buses. Caught in traffic, Sackatogans pass money out the windows to bystanders to buy more beer. A man holds up a T-shirt: "New York's Triple Crown Winner. I Was There." As the lead bus turns onto the Belmont grounds, a cop comes up to the window. "I won't say good luck, because he WILL win." He salutes, and the buses roll in. In the paddock just before the race, with a $5-million Visa bonus hanging in the balance, Sackatoga's Lew Titterton admits the obvious. "The calm has worn off." The clock strikes midnight around the majestic sweeping far turn. A prince wins the Belmont Stakes. But all that came before is not a dream. Sackatoga will forever have its fairy tale journey. And we all thank them for taking us along. b Lenny Shulman is features editor of The Blood-Horse.



Copyright © 2015 The Blood-Horse, Inc. All Rights Reserved.