No Joke: Travers Day at Spa Has Huge Potential
by Tom LaMarra
Date Posted: 6/8/2003 2:31:26 PM
Last Updated: 6/9/2003 9:31:17 AM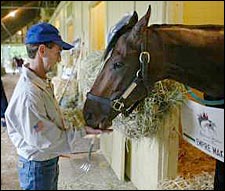 Belmont Stakes winner Empire Maker, being fed a carrot by jockey Jerry Bailey, may face Funny Cide in the Travers Stakes.
Photo: Associated Press

Having just completed a very successful Belmont Stakes Day despite very unfavorable weather conditions, the New York Racing Association is looking forward to a potentially huge day Aug. 23 when the grade I Travers Stakes is run at Saratoga.Funny Cide may have failed in his Triple Crown bid June 7, but he's a New York-bred that was foaled in Saratoga, home of Jack Knowlton, managing partner of the gelding's Sackatoga Stable ownership team. To say Funny Cide has huge support in upstate New York would be an understatement."Everyone is talking about the Travers, and it's only June 8," NYRA senior vice president Bill Nader said. "Of course, a lot can happen between now and then, but we have to be prepared for that opportunity. And we're overdue for a good weather day."Nader jokingly said NYRA had just completed its own "Triple Crown of bad weather." Rain dampened the 2002 Travers Stakes, and also this year's Wood Memorial Stakes, New York's top Kentucky Derby prep held at Aqueduct.Thoroughbred racing can be a fragile game, so it's too early to say what the Travers field for this year will look like. It's certainly feasible, though, that Funny Cide and Belmont winner Empire Maker could square off yet again in the $1-million Midsummer Derby."Somebody ought to sponsor the Travers quick," Nader said.Last year, more than 43,000 people were on hand for the Travers despite the rain. Total handle of $27,838,946 for the 11-race program was the third highest in track history.



Copyright © 2015 The Blood-Horse, Inc. All Rights Reserved.