Sackatoga Magic Busses Arrive at Belmont
by Lenny Shulman
Date Posted: 6/7/2003 12:27:29 PM
Last Updated: 6/7/2003 7:54:59 PM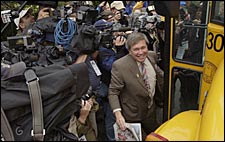 Sackatoga Stable's Jack Knowlton is met by a media barrage upon his arrival at Belmont Park Saturday.
Photo: Rick Samuels

Four yellow school busses carrying Funny Cide's owners (who comprise Sackatoga Stable) and their friends arrived at Belmont Park at 11:30 a.m. today after a short but eventful journey from the Sheraton Hotel near John F. Kennedy Airport. The hotel's lobby filled with Funny Cide's closest backers by 9 a.m. The owners had been the stars of a reception held in their honor at Gracie Mansion last night, hosted by New York City mayor Michael Bloomberg and attended by various political figures.The Funny Cide crew hit the ground running on Belmont Stakes morning, with several attending to the batch of Bloody Marys served on the ride to the track. Gus Williams made a resplendent entrance dressed in his now-trademark derby hat, plaid jacket, and canary yellow pants. Jack Knowlton, racing manager of Sackatoga Stable, answered his constantly-ringing cell phone while also directing the four vehicles safely to the Clubhouse door.People along Hempstead Turnpike outside Belmont Park stood in gas stations and on street corners taking photographs of the busses, which has Sackatoga Stable and Funny Cide signs taped to their sides. Passing motorists honked their horns, prompting cheers from inside the busses. The owners and friends chanted "Funny Cide" and "Triple Crown" as the vehicles pulled into the Belmont Park grounds. Knowlton said the group was "enjoying the moment." All appeared confident in their horse's chances of winning this afternoon's Belmont Stakes and becoming just the 12th Triple Crown winner in history.



Copyright © 2015 The Blood-Horse, Inc. All Rights Reserved.