Tagg Says Funny Cide Went 'Little Faster Than I Wanted'
by Steve Haskin
Date Posted: 6/3/2003 6:06:24 PM
Last Updated: 6/5/2003 4:00:32 PM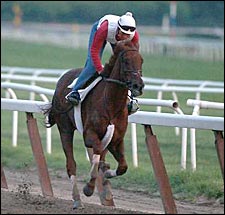 Funny Cide, works Tuesday in preparation for his Triple Crown bid Saturday.
Photo: AP/Ed Betz

Funny Cide, the Kentucky Derby (gr. I) and Preakness (gr. I) winner who is seeking to become the first Triple Crown winner in 25 years, impressed in his final workout when he made a surprise appearance on the Belmont Park track at 5:30 a.m. Tuesday. Trainer Barclay Tagg, who has made no secret of his desire to limit the stress and pressure on the 3-year-old gelding as Saturday's Belmont Stakes (gr. I) approaches, had said the Belmont favorite would work after the track maintenance break at 8:45 a.m. The son of Distorted Humor breezed five furlongs in :57 4/5, with fractional splits of :22 and :45. He galloped out six furlongs in 1:11 3/5 under assistant trainer Robin Smullen, who had a hard time pulling him up following the workout. "It was a little faster than I wanted, but he cooled out fast after the work; I can't complain," Tagg said at a press conference around 10:30 following the work. "I thought the track would be better in the morning. It was beautiful. I wanted to get the work in before the sun came up and dried out the track. When it does that, it can get powdery."It's like Allen Jerkens said, 'More horses win after a fast work than after a slow work.'"The work began at the 4-furlong pole, and Funny Cide was really rolling as he rounded the turn. Tagg was positioned on his pony and held up an arm to indicate he wanted Smullen to get the gelding to slow down. Funny Cide changed leads from his right to the left as he normally does just past the wire. "He was stronger the first eighth of a mile," Smullen said. "I gave him some rein and he settled down. He galloped out strong...very strongly. The more you try to take a hold, the faster he'll go."After the work, he was blowing like a normal horse, but after I got back to the barn and started to take the tack off, he wasn't blowing at all. It felt like a normal work...except it was faster. The whole time, I was saying, 'Whoa, whoa, whoa.'"On observer of the workout was Mike Sellitto, agent for Funny Cide's jockey Jose Santos. "That was scary," Sellitto said of how good Funny Cide looked in the move. Smullen said she's seen a change in the Funny Cide since the Triple Crown conquest began at the Kentucky Derby. "He has a bigger ego now than he did before the Derby. He's stronger. He used to give in, but now he'll challenge you (in a work)."Tagg agreed. "He's thrived on everything during the Triple Crown. To win the Triple Crown, you need a good horse, the best 3-year-old during this time of year; a horse that can get a distance who has speed; and everything has to come together. The horse has to stay sound for two months, has to eat well for two months, and he has to stay fit for two months. A million things have to go right. We're fortunate with this horse -- everything has fallen into place. It's not my prowess, it's just that a million things have gone right."Tagg now just has to wait until Saturday. "He couldn't be doing any better," he said. "Hopefully Jose (Santos) can slow him down the first half-mile. Let's hope he has the class to do it."
Additional reporting by Evan I. Hammonds



Copyright © 2015 The Blood-Horse, Inc. All Rights Reserved.