Tagg and Funny Cide: To Protect and Serve
Updated: Sunday, June 1, 2003 7:30 PM
Posted: Saturday, May 31, 2003 5:11 PM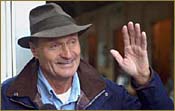 Photo: Associated Press
Barclay Tagg: "...if you don't have a license that says you're employed by Barclay Tagg, you're not getting in here."
On Friday, trainer Barclay Tagg, who has been very protective of Funny Cide, told it like it is. Starting next Friday afternoon, Funny Cide and Barn 6 are off limits to all non-employees."From 12 o'clock on Friday afternoon to Sunday morning, I'm not doing anything; nobody's coming here," he said. "I'm going to have guards posted all around all night, and if you don't have a license that says you're employed by Barclay Tagg, you're not getting in here. I'm not going to church, so you can come Sunday morning and criticize me or whatever you want to do. There won't be any victory party after the race if he wins. I'll just come back here and see if he's eaten his mash."Tagg said his most difficult task has been to keep Funny Cide calm and relaxed, as he prepares the gelding for the most important race of his career. "He's good and strong, he's training well, and he's eating up at night," Tagg said Saturday. "If I can get him to the race fit and healthy and not stressed out from too much commotion, that's all I can do for him."His demeanor might look fine, but it's still constant stress, and after week after week of it, you wonder are they going to fall apart on you when it's crucial? It's something you have to concern yourself about. I just want to get him there as peacefully and perfectly as possible. That's one of the reasons why I don't drag him out here every day and let people take pictures of him and all that kind of stuff. I don't think that's fair to him to put him through that kind of rigor."One of the reasons we've been a little sneaky about things is to try to avoid any excess of stress. To face the kind of mobs of people he's going to, we want him happy and healthy and sound, and have enough fluid in him to handle it. If he's dehydrated from worrying for two weeks, and then you lead him over there and he hits a big crowd and falls apart, you're not going to have anything left for the big race."One of those sneaky things Tagg was referring to was covertly shipping the horse to Pimlico hours before he said he was going to ship. "I lied to everybody and said I wasn't going to take him to Pimlico until Saturday morning and took him Friday afternoon instead. It was pouring rain, and I snuck him out of here. I got him in a private barn and had him secured away. All of a sudden, the track photographer and another guy came running down the shed row. I got him all the way from New York to Pimlico, got him off the van, in his stall, everything was quiet and nice, and here comes this guy running down the shed row. "My job is to get the horse there to win the race. If you want a circus horse, you go to the circus. He's not a circus horse, he's a racehorse. They're temperamental; they're very, very fit; they're geared up; they're confined, and they're very self-destructive. And it's not easy to get them on and off vans, then have people running around with cameras and stuff like that. I know people think we get sour on the press, but I think I've been very nice to the press. It's a very difficult thing dealing with a racehorse, because they don't know any better."On Saturday morning, Funny Cide jogged once around the wrong way, then, when Tagg went to grab hold of him to get him past the gap to go around the second time, the gelding became very tough, dragging Tagg and exercise rider Robin Smullen past the stands. "He was really tough this morning," Tagg said. "When I grabbed him you could feel a lot of strength there.""He's getting tougher every day, even going the wrong way" Smullen said. "He's tougher now than he was before the Derby. I guess he's higher on himself. I looked at him in his stall yesterday and I actually think he's put on weight."Tagg agreed. "Sometimes you want to see something so badly, you try to see it even when it's not there," he said. "But he does look like he's gained weight. Some people feel he may bounce after three big races, but I can't see it in his demeanor. He's doing everything the right way and he's strong as iron."
FREE! E-Newsletters from The Blood-Horse!...
Follow the top stories of major racing events, racing previews and results with FREE e-newsletters from bloodhorse.com. As news develops, we'll deliver updates to your inbox. Follow important events moment by moment, step by step!