Caller One Sharp In Final Prep For Sprint
by Blood-Horse Staff
Date Posted: 10/28/2000 8:58:32 PM
Last Updated: 10/29/2000 5:09:14 PM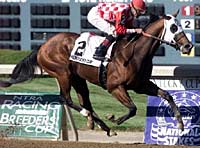 Caller One, shown winning the Kentucky Cup Sprint at Turfway Park, turned in his final prep for the Breeders' Cup Sprint.
Photo: Associated Press/Al Behrman

Barn Notes from Churchill DownsCarolyn Chapman and Theresa McArthur's Caller One completed his serious training for the $1 million Breeders' Cup Sprint with a five-furlong breeze Saturday at Churchill Downs. The Jim Chapman-trained Phone Trick colt breezed five furlongs in 1:01 under jockey Brian Beccia."They didn't want him to go too fast today, so we tried to slow him down a little bit," Beccia said. "That's the best I could do to get him slowed down. He was very, very well within himself."Beccia has been aboard the 3-year-old for both of his works this fall at Churchill Downs and has been most impressed by his energy in the run through the stretch."He's got that kick at the end," he said. "When he turns for home and switches to the right lead he pulled at me again and I said, whoa, I've got to slow him down."Caller One's only poor race of the year came in an off-the-board finish in the one-mile Derby Trial (gr. III) in late April, but Chapman was convinced by Saturday's work that his colt's affinity for the racing surface was not his problem in that setback."After this work here, I don't have any doubts as to how he's going to run," Chapman said. "He has worked better over this racetrack than he has any track."Surfside Sharp In Work - Overbrook Farm's quadruple Grade I winner Surfside showed her readiness for the $2 million Breeders' Cup Distaff by working five furlongs in :59 2/5 under exercise rider Stacey Maker Saturday morning at Churchill Downs shortly after 6:30."It was an excellent work and I couldn't have been more pleased. I am very comfortable with where we are," trainer D. Wayne Lukas said. "I wouldn't change a thing."The Distaff will be Surfside's second race off a layoff after a fifth-place effort against the boys in the Santa Anita Derby. Surfside finished second in the seven-furlong Raven Run at Keeneland on Oct. 11."I would have liked to have won the seven-furlong race at Keeneland," Lukas said, "but if you would have told me she'd run 1:08 flat . . . If I knew she was going to run like that, I probably should have put her in the Sprint. I'm ready. It (the Distaff) is tough, but I'm not giving up any optimism. The Distaff will be a great way to start the day, and get everybody pumped."Lu Ravi Blazes 5 Furlongs In Final Distaff Drill - Fujita Yoshio's Breeders' Cup Distaff hopeful Lu Ravi put in her final work for next Saturday's $2 million race by working five furlongs in :58 2/5 in company under James Lopez after the renovation break."She did it easy, and the boy never asked her," said trainer Carl Bowman, who will be saddling his first Breeders' Cup starter. "She has always been an excellent workhorse, and I always work her a week before a race to give her time to settle down."Gander Solid In Five Furlong Work - Gatsas Stables' Gander worked five furlongs in 1:00 4/5 with exercise rider Simon Harris aboard for the move after the renovation break."He worked well,'' said assistant trainer Tonya Terranova. "We had him going out in 1:13 3/5 for six and up in 1:26 for seven and the mile in 1:44."



Copyright © 2015 The Blood-Horse, Inc. All Rights Reserved.