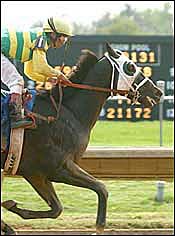 "He went real well and galloped out real good," said trainer Neil Howard. "He's doing good. We're still on the fence about what we're doing about the Belmont, but we should have a decision pretty soon. We just want to be careful with him."

The breeze by Midway Road was ranked eighth among 48 works at the distance over a "fast" track.At Hollywood Park, Illinois Derby winner Ten Most Wanted worked a sharp seven furlongs in 1:25 for trainer Wally Dollase. The son of Deputy Commander apparently has fully recovered from a sore back suffered in the Kentucky Derby when he bumped hard with Scrimshaw coming out of the gate.B. Wayne Hughes and Biscuit Stable's fourth-place finisher in the Kentucky Derby galloped two miles on Tuesday under exercise rider Raul Vizcarrando as he continued to recover from a bruised foot suffered in a workout seven days earlier. The son of A.P. Indy galloped for the first time with a fiberglass patch that had been applied to the injured area, which is located on the bulb on the inside of his right front foot.

"We got through another day," said Ellis. "He started off perfect and was pulling and happy. He was playing when people went by him. We'll work tomorrow and hopefully we'll get by that test and see how strong that patch is."

Ellis said he would not be looking for anything spectacular from Atswhatimtalknbout in Wednesday's training move. "I think I'll go an easy mile, but it'll be kind of like he worked before the Derby - just 1:41 or 1:42, somewhere along there," he said. "I just want to test that foot out a little bit."

A major concern, but not yet an issue, is the threat of infection in the injured foot. An abscess popped on the injured foot late last week, which allowed the bruised area to be drained and Ellis continues to closely watch the foot's progress."I can get to it because it's not totally covered up (by the patch)," Ellis said. "I think we can handle it."Trainer Ken McPeek said his pair of possible contenders for the Belmont Stakes continued to do well with less than two weeks to go before the race. Phillips Racing Partnership's Best Minister, winner of Pimlico's Sir Barton, galloped Tuesday under exercise rider Hanne Jorgensen. The son of Deputy Minister was scheduled to ship to New York Tuesday afternoon.

Marilyn and David Randal's unbeaten Wild and Wicked, an easy winner of a Churchill Downs allowance race on Sunday in just his second career start, walked under McPeek's shedrow on Tuesday. McPeek placed the Wild Again colt's chances of traveling to New York for the Belmont at "50-50."If Wild and Wicked goes to the Belmont, he will fly to Belmont Park on a plane that leaves from Louisville on Tuesday or Wednesday of next week. "It would be an aggressive move," said McPeek. "It would be coming back in 13 days, but I don't suppose it would be any more aggressive than Conquistador Cielo coming back in six (to win the Belmont). I don't think you can have any fear in this game. If he's doing extremely well and he's touting us - and he seems to be after the race - we're going to have a serious discussion before that plane leaves."